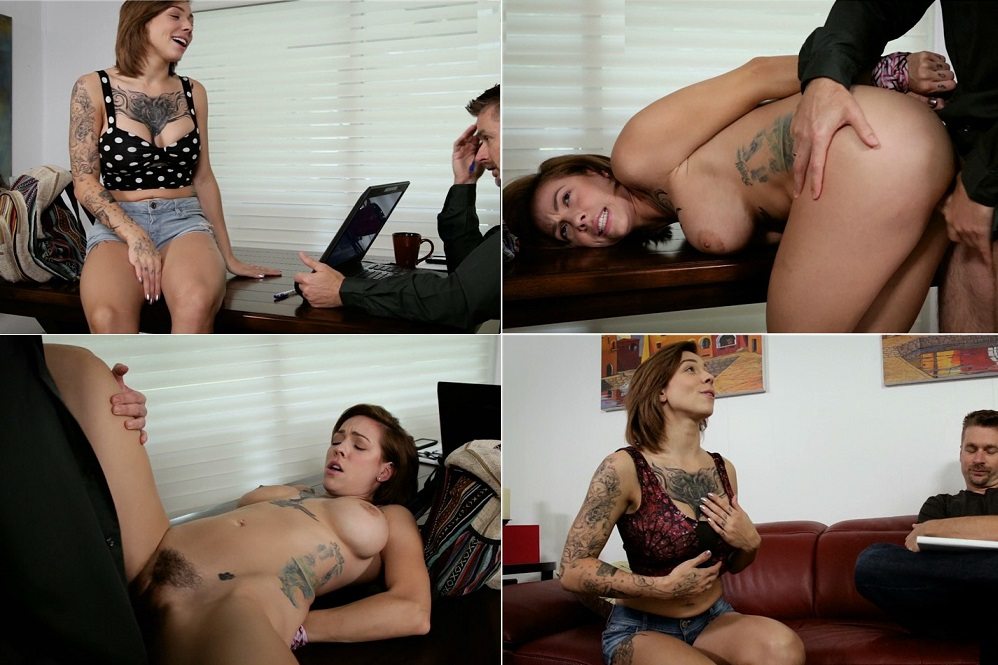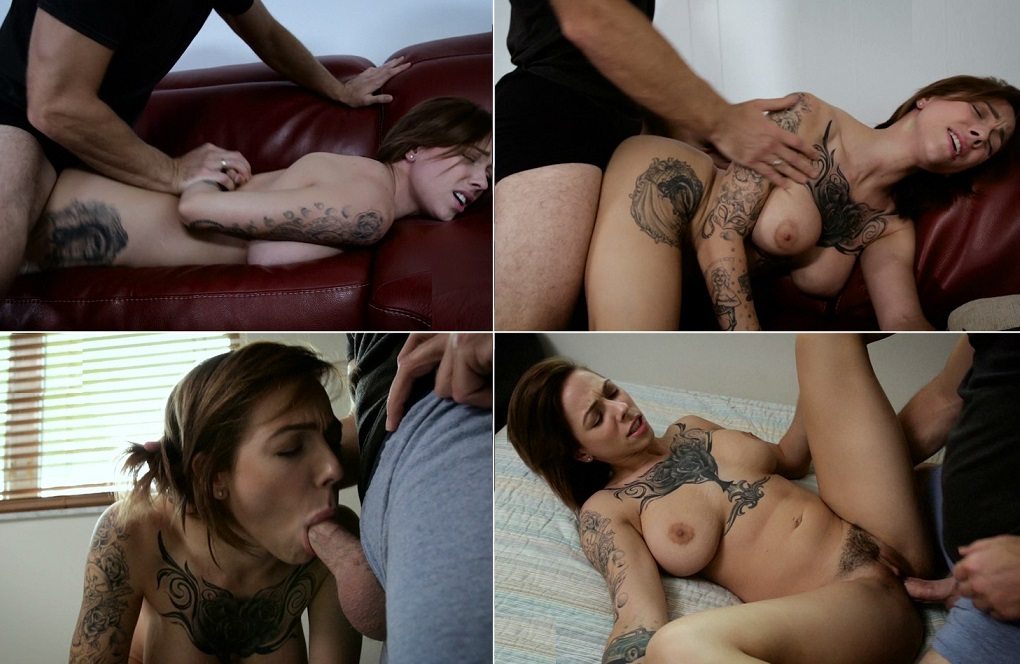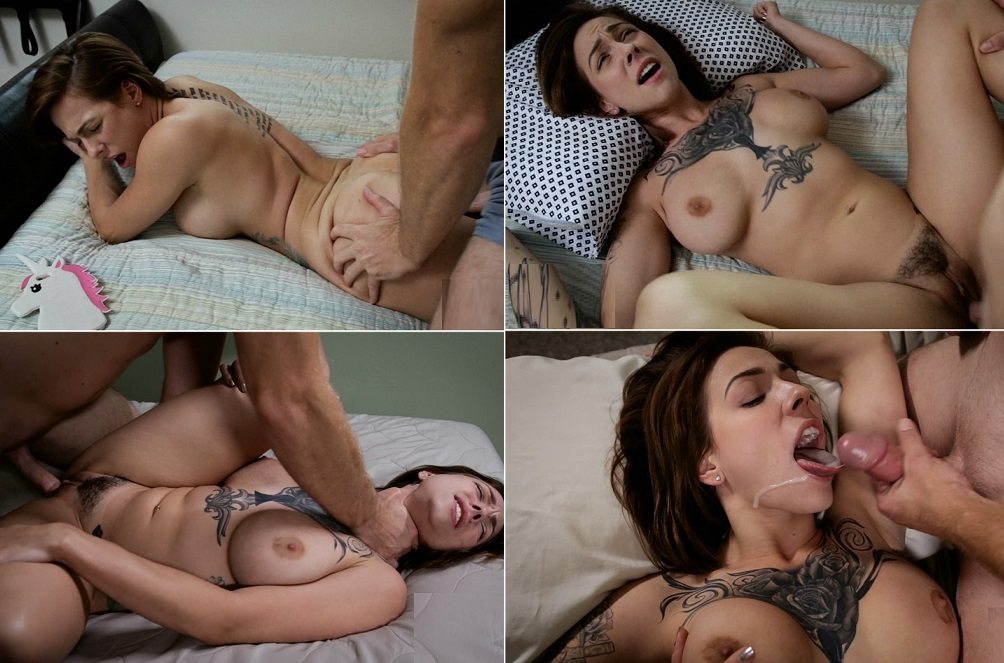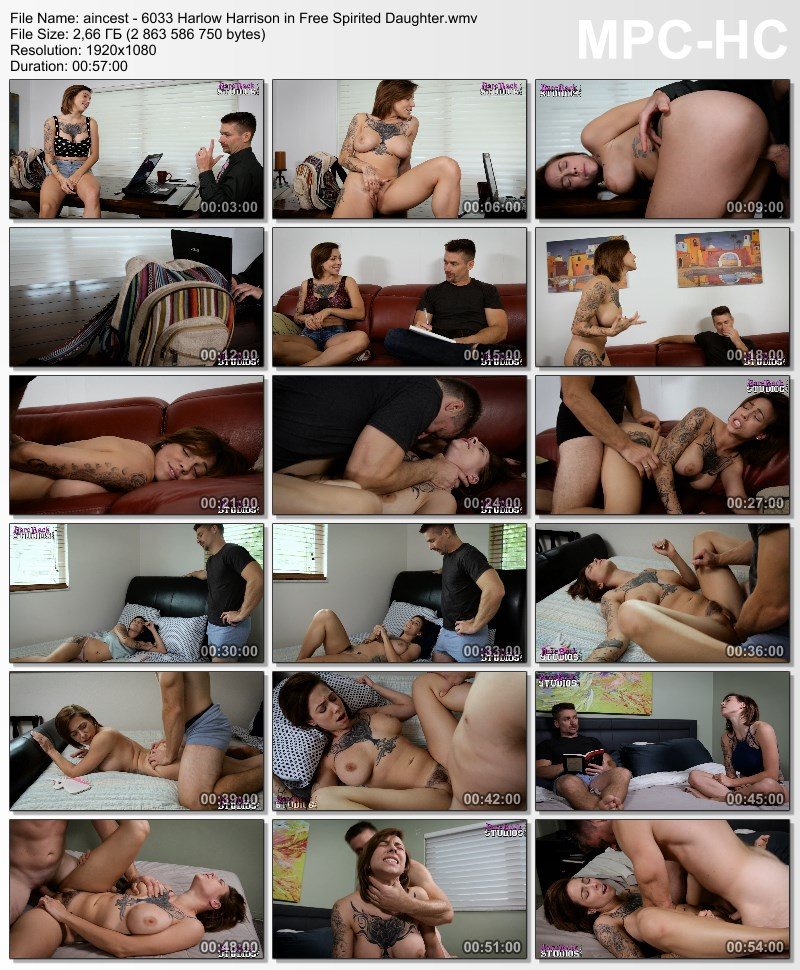 Added: 10/18/16
Scene One: Breaking her will
Harlow knows just what to do to get under her dad's skin. Barely wearing anything she shows off the tattoos she got in college. She's a free spirit now. "We should all just be free" She says taking off her top. He looks away yelling at her to put her clothes on. She gasps a sigh of relief as she takes off her tiny panties.
"You should never be bound by clothing" Harlow moans, touching herself and talking about free love. He must not have been strict enough when she was growing up. "What are you doing dad?" She says in shock as he takes off his tie and binds her hands behind her back. "I'm going to teach you about free love" He says in rage, slapping her ass and making her squeal. He takes out his cock and fucks her silly. Harlow's eyes roll and she moans against her will as he fucks her every which way and cums deep inside her free pussy. Cum dripping from her she scampers away in shock.
Scene Two: Manhandled
Her dad is on the couch conforming to the norms of society that go against everything Harlow believes in. "You should take a walk out into nature, be free and naked like the universe intended us to be" Harlow tells him. She takes off her clothes again, not caring what happened the last time. "I'm a flower dad" She says, naked and proud.
"This is something I should have done along time ago" He says pulling her over his lap and spanking her ass with his belt. "This is not freedom! I'm too old for this" Harlow begs him. "You can't do this" She says as she's pushed down on the couch and fucked from behind. "I'm your !" She screams, her dad putting another hot load inside of her natural and free pussy. If it wasn't so wrong Harlow might actually like being fucked like a hippy slut. Anger on her face she watches her dad leave.
Scene Three: Black Mailed
Harlow is on her phone when she gets a text from her dad. She's been staying at home for a while now and he wants her to start paying rent. She laughs in bed at the thought of a money based society. Her dad should let her live there because he's her dad and no other reason. "Like, there's no way I'm paying this" Harlow says. He walks into her room and explains how money works to his "freedom" .
He takes away everything he bought for her, her phone, her clothes everything was paid by him. "What do you want me to do, conformist" Harlow spits at him. He explains to her that if she wants to keep living there she will have to perform a service. Taking her hand he places it on his dick and watches his daughters face turn to disgust. She has no choice but to do what she's told. "Oh my god" She says mortified, slowly bending over and sucking her father's disgusting dick. He fucks her on the bed, getting his moneys worth from her tight pussy and perky breasts. He tells her to open her mouth and drops a big load all over her hippy face, just like he always wanted to do to her mother. Harlow is getting a great education in capitalism.
Scene Four: Freeloaders pay
"Dad I have a bill that needs paying" Harlow moans walking into her dad's bedroom. He tells her to get a job or go back to college. "I will do things that mom wont do" Harlow says removing her last bit of pride. Deep down she knows she's a whore for money now. She takes off her top and wiggles her breasts for her father to pay her bills.
She clenches her teeth and spreads her legs for her fathers hard fucking of her tender body. "Oh my god" She moans as her dad fucks her harder than before, slapping her ass and using her like a slut. He makes her get on top of him and ride him for his pleasure before throwing her back down on the bed and getting his monies worth. Without a word he brings his dick to Harlow's face and she knows what he wants. She opens her mouth and tastes her father's big load of cash. "Can I have my money now?" She says, her self respect and self worth completely gone. Harlow's becoming an expert in capitalism.
Category: All sex, Taboo, Incest, Family Roleplay, secret, POV SEX, PETITE, FUCKING, cumshot, Bondage Sex, Blackmail Fantasy, love, moving, Father – Daughter sex, Daddy`s Girl, Handjob, Facial, Straight, Blowjob, POV, Fucking, Blackmail Fantasy, Impregnation Fantasy, Fetish Video, Family Secrets, Family Sex, All Natural, xxx, Porn, Download Incest Video.
Format: wmv
Resolution: 1920 x 1080
Duration: 00:57:00
Size: 2.66 Gb
http://aincest.com/file/vcl13clhuvzmhv
http://aincest.com/file/uvk2cnlx3en4b6
http://aincest.com/file/g5dfe0n4v9l9ns