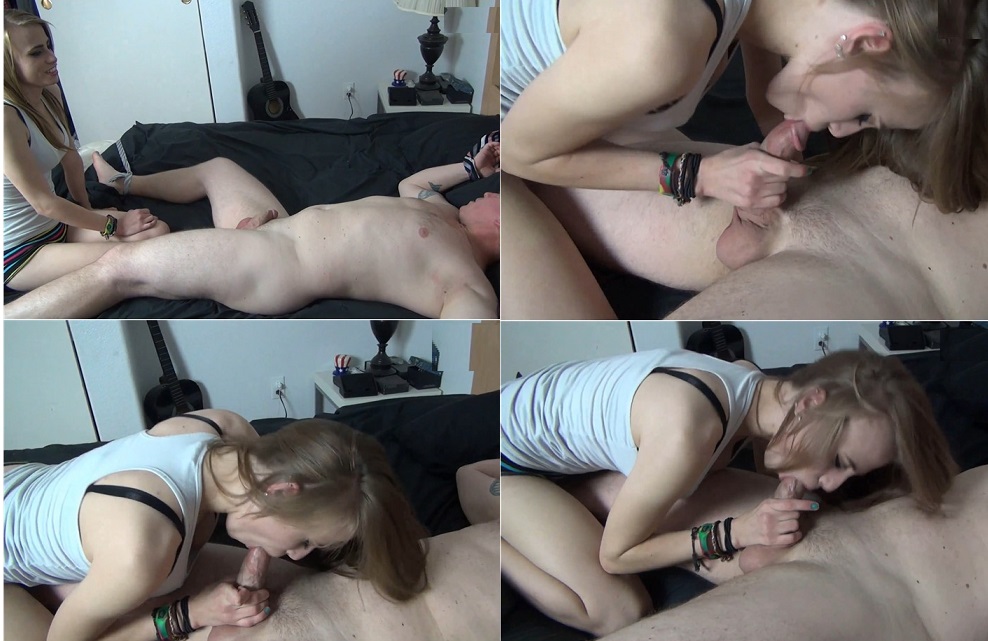 ERIC REFUSES TO LET HIS LITTLE SISTER SUCK HIS COCK….
SO WHILE HE IS ASLEEP…SHE TIES HIM UP….
AND SHE SUCKS HIS COCK AGAINST HIS WILL!!!!
Solei is complaining to her girlfriend that she is going crazy without a cock to Suck! Ever since she broke up with her boyfriend a few weeks ago….Solei has had no cocks to Suck….and Solei LOVES to suck cocks!!! She confesses to her friend that she has even asked her Brother, Eric to please let her Suck him off….but he keeps refusing. Solei, however, has a plan. That night when Eric is asleep…..Solei quietly enters his bedroom….and ties him up while he is asleep!!! Once Solei is confident that her older Brother is helpless and secured….she wakes him up!! Eric is horrified when he wakes up to find himself….naked…….tied to his bed…..with his little Sister sitting over him!!! He asks her what the fuck is going on….and Solei gives him an honest answer….."Look…..I told you a hundred times….I'm addicted to Sucking cock….I haven't had a cock to suck for a while….you wouldn't let me Suck yours when I asked you nicely…..so I'm gonna Suck your cock by Force!!". Eric is shocked and sickened by his Sister's threat….and to his horror….Solei puts his cock in her mouth and starts to suck!!! Eric starts calling out for his Mom to save him….but Solei Smothers his mouth with her hand as she continues to Suck. Eric begs for mercy….pleading with his little Sister to stop. He tries thinking about "gross things"….to try and make his cock go limp….so that she will get frustrated and give up…..but Solei's expert lips and mouth won't allow him to go limp!!! He begs and begs for her to stop….but Solei keeps sucking and only says "Shut Up Eric, or I'll slap you really hard". Finally, the terrorized Eric comes to a frightening conclusion…..the only way for the horror to stop…..is to give the little Brat what she wants…….so that she will go away…..and the horrible ordeal will be over. So that's what Eric does….he closes his eyes….pretends it's somebody other that his Sister Sucking his cock….and he cums for her!!! Solei spits the cum on Eric and tells him "You're lucky I didn't Fuck your asshole!!!".