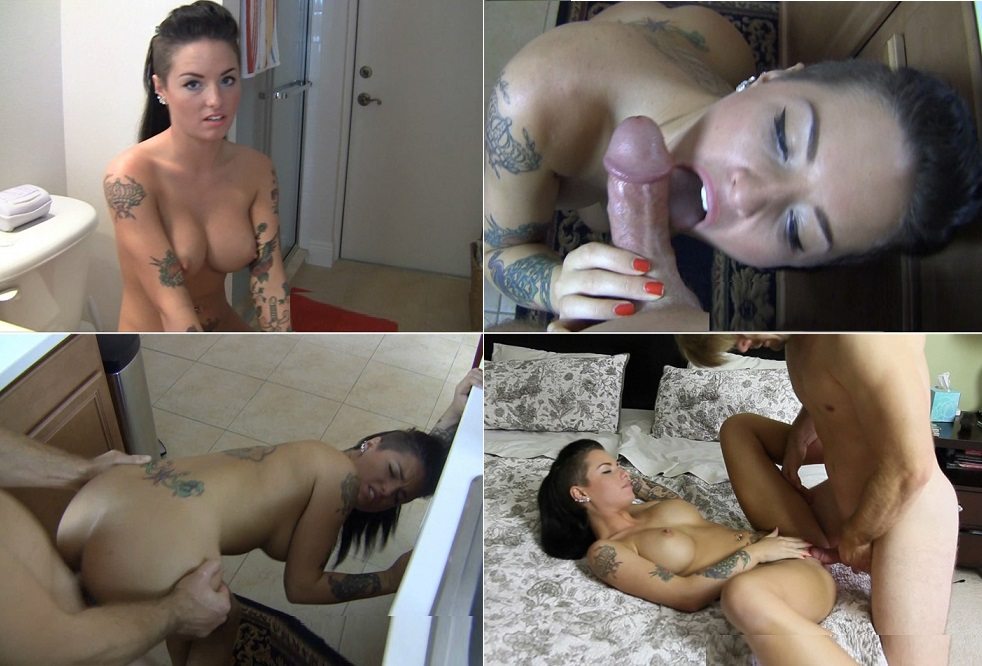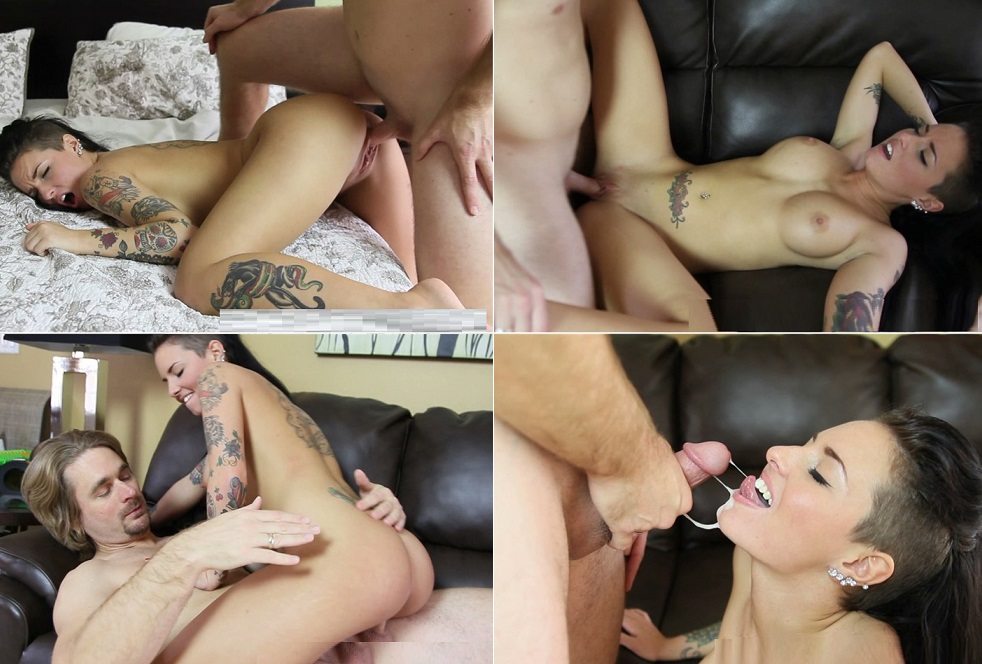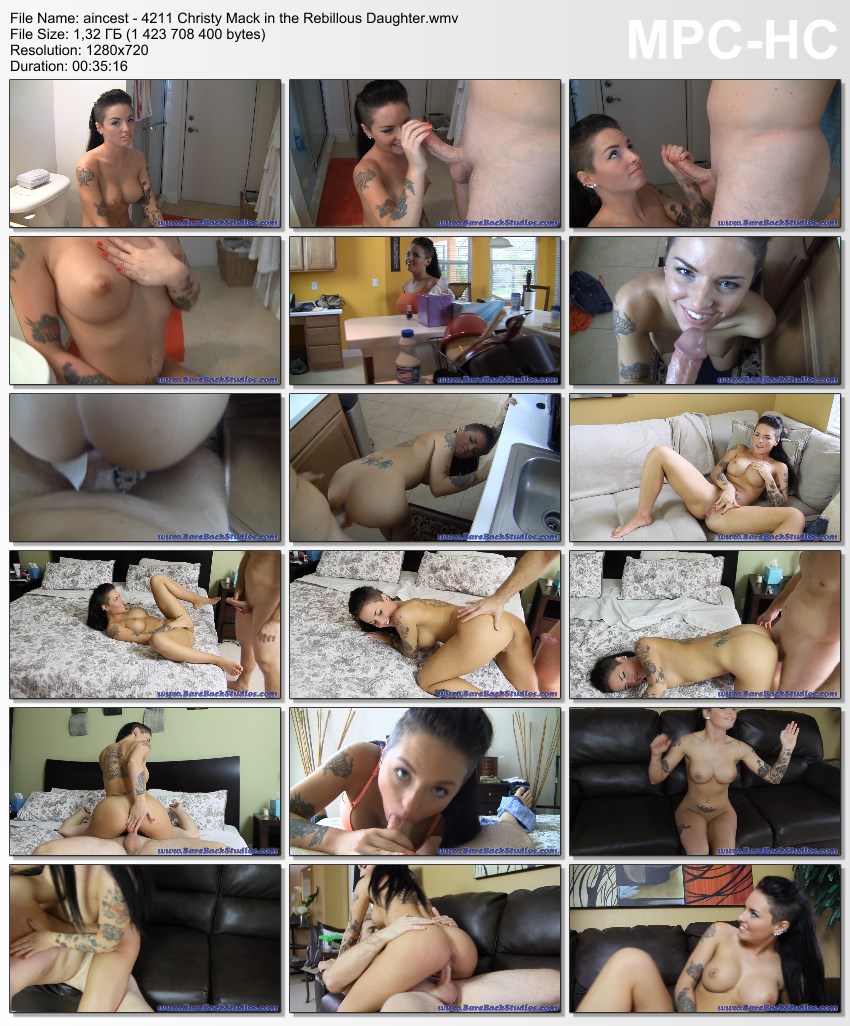 Cory found out her daughter shaved her head and loaded her body full of tattoo's…cory wants to throw her rebellious daughter out of the house but dad does not believe his daughter would do such a thing…mom and dad agree to discuss the tattoo issue with christy later in the day after she returns home from school…dad walks off to shower before work and finds a surprise in the bathroom…christy is nude in the bathroom waiting to see daddy…daddy finally sees the tattoos and is in shock…christy gives her daddy a big smile and asks if there is anything she can do to make him forget about her new haircut and the tattoos.
daddy has a boner and remembered that cory no longer has sex with him…his hot daughter offered to suck him off and he took her up on the offer…christy gives him the best blowjob he has ever had and finishes with a big swallow…
dad tells christy to keep this a secret and he will not tell mom anything about what happened…christy gives dad a wink and tells him she will see him later…
at breakfast with christy and her brother wally, we discus the tattoo and shaved head issue…i storm out of the room in a rage, upset at what my daughter has down to herself…wally leaves the table and does not want to get involved with the christy issue…
dad is doing the dishes and christy comes over to chat…she has an evil grin on her face and really wants dad to fuck her…mom is in the other room but christy does not care…she goes down to her knees and pulls dad's cock out and begins to suck…christy has dad hard and wants his cock in her tight pussy…dad cannot resist and slips it in…at that moment cory walks into the room but she cannot see over the counter to see what is going on…good thing she cannot see, daddy is pumping away while talking to mom….mom walks off and daddy finishes…he drops his seed inside christy, pulls his throbbing cock out of her tight pussy and walks away to clean up for work…
christy turns and gives dad a smile and reminds him she will see him later…
christy skipped school today…she wanted to spend the day with her new lover…daddy was on the way to get dressed for work but found his daughter waiting for him in the living room…christy was hardly wearing anything and ready to seduce daddy before he headed off to work…
she begged for dad's cock and wanted her tight hole filled…dad could not resist, cory refuses to put out anymore and dad has needs…he fucks christy on the couch and wants to turn up the kink with christy…the move to cory's bed and fuck like rabbits…mom is almost home from work and they have to wrap up the third fuck of the day…dad finishes inside of christy's pussy and hold her down so no drop leaks out…christy leaves the bed and walks off to her room…she gives dad a wink and promises more later…
mom and dad we laying in bed…cory was sound asleep but dad was wide awake…he could not clear his head from the day he had with christy today…just as he began to close his eyes, christy walked into the bedroom…she slid under the sheets and gave dad the greatest blowjob yet….
dad looked over to see if cory was still sleeping, she was but just barely…the blowjob from christy became more and more intense, so much he walked christy out of the bedroom and into the living room…he did not want to wake up cory…
daddy sat christy on the couch and told her to lay back…he gave her the best fuck of her young life…if they were going to get caught eventually, they should make the best of this…
christy wanted a different ending this time, she wanted daddy's cum in her mouth…dad could not pass up the opportunity, cory never swallows…dad pulls his rock hard cock out of christy's tight snatch…christy went down to her knees and begged for his cum…she opened her mouth and stuck out her tongue as daddy painted her tongue with a perfect coating of all his love…
christy swallowed every drop and licked her fingers clean…dad slipped away, back to to bed and christy promised more for later…
Categories: All sex, Taboo, Incest, Natural Tits, Family Roleplay, POV sex, Impregnation Fantasy, Father – Daughter sex, POV, Cum in Mouth, Handjob, fucking, blowjob, creampie, exercise, Fetish Video, Family Secrets, Cumshot, All Natural, xxx, Porn, Download Incest Video.
format: wmv
resolution: 1280 x 720
duration: 00:35:16
size: 1.32 gb
http://aincest.com/file/b3symel4l9pbjo
http://aincest.com/file/lz5dky0gk4oubc