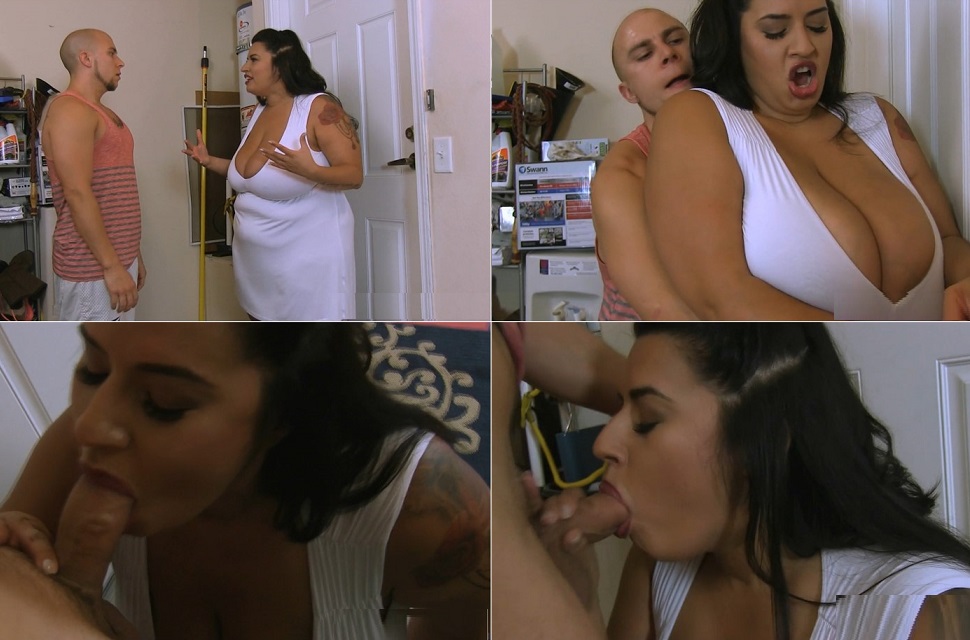 Added: 9/27/17 09:09PM
Sophia calls for junior to follow her down into the basement. She starts looking around the shelves, and asks him to prop the door open, just as he turns around letting it slam shut behind him! She frantically reaches for the door as he tries to apologize, he heard her to late. As she yanks the handle she tells him to call your dad and have him leave work early to get us out! He tells her that he left his phone in his room. Sophia is pissed! She is supposed to be getting ready to go for a date with DAD! They haven't had a minute to themselves! Upset, junior explains he's was supposed to be playing video games with his Friends online, now they are going to start with out him! Sophia yells at him that he needs to quit paying those damn video games and go get a girlfriend. Taken back, he tries to explain that he doesn't want or need a girlfriend. He has her, she's such a great mom what more could he want? Sophia is touched to hear her son say that. She gives him a kiss on the lips and apologizes for yelling at him. She's just so upset, she has been looking forward to this date with their date, she needs that alone time. He says sorry again and asks if maybe they can try and get the door open. Sophia grabs and yanks the handle, trying to get the door open. As she yanks her heavy breasts giggle and wiggle as junior offers to help her. She orders him to grab her around the waist and pull her.
As he slides his hands across her plump belly and presses up into her even bigger ass. He pulls and yanks with her trying to get the door open. It won't budge and she yells for him to try harder! He pulls on her hard but he starts to get distracted by how much of his mom there is. He feels her breasts bouncing on top of his arms, and the weight of her big ass pressed up against him. She just feels so warm and soft that he starts pressing into her more, enjoying the way she feels in his arms. Sophia wails miserably and says its not working. She was so looking forward to tonight. Junior in attempt to cheer her up calls his dad stupid, he should never leave her alone all the time, she's beautiful. Sophia smiles, her son can be so sweet! One day he will make a girl so happy. She leans over to give him a quick kiss and asks him to try something else to get this door open. He grabs her lower this time and promises to really put his weight into. They pull and yank but junior starts to get that funny feeling again. He knows its bad to think about his mom in that way but being so close to her, smelling her perfume. Feeling her ass rock back fourth against his crotch is making him start to stiffen in excitement. He starts to really pull on her, and secretly start to hump her behind. She is so consumed with getting the door open at first she doesn't notice him, but then she feels his hands creep up to her chest and hold her breasts. She lets it happen, its no big deal he's just trying to help his mom get the door open right? He pulls her harder and tighter against him making everything on her jiggle and wiggle. They pull and pull and when she feels him try to reach inside her dress she knows she has to stop him, but his hands feel so good against her, its been so long since she has been held like this, she almost thinks about it. Sophia knows she has to stop her son, but she can feel his warm hands cupping her breasts and a wave of arousal washes over her. Her pussy throbs with want but she knows fucking her son would be so wrong. But she feels his dick pressing into he with a need that matches her own. She loves her son and always wants to make him happy, maybe its ok if she just sees it, touches it Little…. But when she see's it, she is overcome with desire…Its looks just like his dads but bigger! Her mouth waters and before she knows it shes wrapping her big lips around it and swallowing it down.
Categories: Mother and Son, TABOO, BBW WITH THIN MEN, POV SEX, BLOW JOBS, BIG TITS, Sophia Rose, mom and son, fat jiggle, booty bouncing, all natural, cum in mouth
Format: mp4
Resolution: 1280 x 720
Duratio: 00:27:38
Size: 811 Mb
https://fboom.me/file/a346f4b90cbef/aincest_-_11339_Sofia_Rose_Mommy_Locked_in_the_Basement.rar