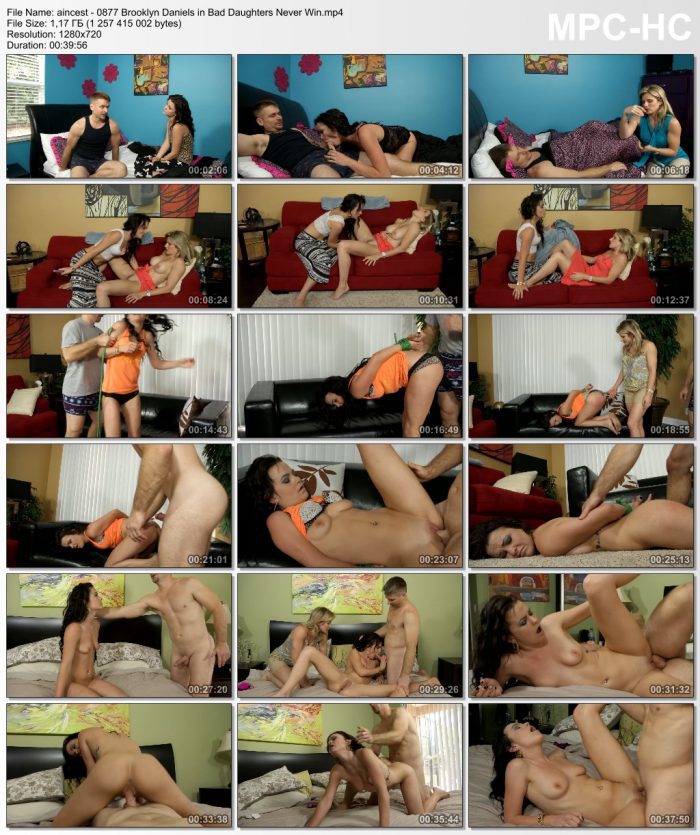 Scene One: Convincing dad
Brooklyn has just been grounded from spring break by her mom Cory, but she has a plan to get ungrounded. She invites her dad to her room and tells him how unfair it is that she's grounded. She just bought all this new clothing and gives her dad a show of her new underwear. She shows him what she would do to all the boys and grinds on him in her lacy underwear. Taking out his cock she sucks him, saying that he should talk to mom. A knock on the door and Cory bursts in the room. Dad quickly covers his daughter with a blanket as she continues to suck him. Cory asks if he has seen Brooklyn and reminds him about dinner that night. As soon as she leaves he cums in his daughter's mouth. With a swallow Brooklyn tells him that he can have that every night if he lets her go on spring break.
Scene Two: Convincing mom
Dad did nothing to help her so Brooklyn goes to work on her mom. Cory is in her room reading when Brooklyn walks in dressed in lingerie. Cory asks her what she is doing but Brooklyn silences her with a kiss. Attacking Cory with her hands and mouth she makes her mom moan. As Brooklyn licks her pussy a knock comes from the door and Cory quickly covers up her daughter. Dad comes in to talk to Cory about dinner that night. Brooklyn continues to lick her moms pussy, and as they talk Cory cums. Dad asks if she is feeling alright and goes to get her some medicine.
Scene Three: Tied up
Brooklyn sends her dad a text message with her sprawled out naked on the bed. Then going into the living room she tells him that if he doesn't fix her problem that she is going to tell mom. Dad says fine and goes upstairs. Instead of talking to mom he comes back with rope and ties up his little girl. Stripping her to her underwear he makes her suck his cock and spanks her ass. Cory comes downstairs and sees him spanking Brooklyn. She gives her a few good slaps for dressing like a slut and leaves. When Cory is gone he fucks Brooklyn like the bad little girl she is being. With one last thrust he cums deep inside her and leaves her tied up on the floor.
Scene Four: Who needs spring break
Brooklyn walks into her daddy's bedroom with a sad look. Today is the last day of spring break and she has not even left the house. Dad tells her that unless she does as he says he will send that naked picture of herself to all her friends at school. He makes her strip naked and suck his cock. But mom? Brooklyn says catching her breath. Cory walks in and tells her that she knew all along and that this is Brooklyn's punishment for being a bad girl. She commands her daughter to fuck her husband. He fucks her until she has one screaming orgasm after another. He shoots his hot load on Brooklyn's face and Cory gives her a kiss. That's that way to end a vacation.
Format: mp4
Resolution: 1280 x 720
Duration: 00:39:56
Size: 1.17 Gb
http://fboom.me/file/611746aac54ec/aincest_-_0877_Brooklyn_Daniels_in_Bad_Daughters_Never_Win.part1.rar
http://fboom.me/file/431b7b19c5304/aincest_-_0877_Brooklyn_Daniels_in_Bad_Daughters_Never_Win.part2.rar