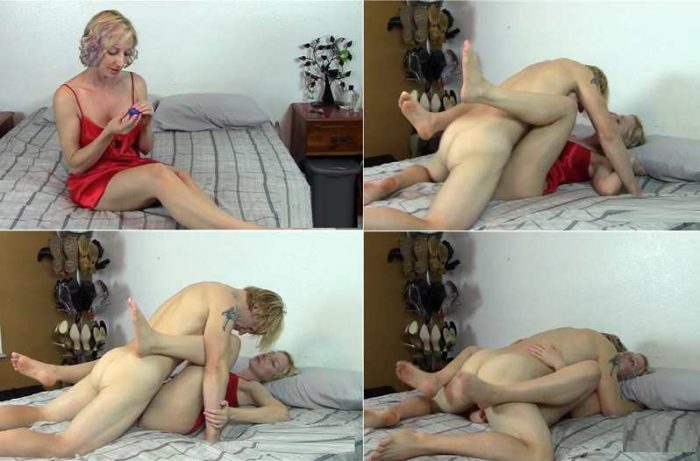 A blonde and sexy woman is sitting on her bed in her silk nightie. She starts talking about how she saw on her step son's computer images of swimmer girls who wore nose clips. Since she has always wanted to get with her step son sexually she has planned a little something that is a bit taboo.
She unveils a nose clip and puts it on. She knows he will be home soon and knows he will be so turned on that it will lead to a taboo encounter. This is exactly what she has been wanting for so long.
He enters the room and is shocked to see here there. She explains that she knows all about his fetish and asks if he likes what he sees. Judging by the bulge in his pants that answer is yes. She tells him to get naked and join her on the bed, which he does.
Step mommy tells him to fuck her and fuck her good. He can't resist and gets on top of her and starts pumping away. He is so turned on by the nose clip on his step mom's nose that he forgets just how taboo the situation is and even starts kissing her passionately.
Step mommy does dirty talk the whole way through and the end result is him pumping a big load of cum deep inside her pussy. She kisses him some more and sends him on his way, but with the promise of more to come.
Included in this clip: Taboo, Nose Clip Fetish, Taboo Fucking, Missionary, Kissing, Dirty Talk, Step Mom and Step Son, Step-Mom and Step-Son Fantasy, Role Play, Satin Nightie
Format: mp4
Resolution: 1920 x 1080
Duratio: 00:10:08
Size: 568 Mb
aincest – 27219 Taboo Missionary Sex as Blonde Step Mom Tempts Step Son with Nose Clip and Satin Nightie.mp4