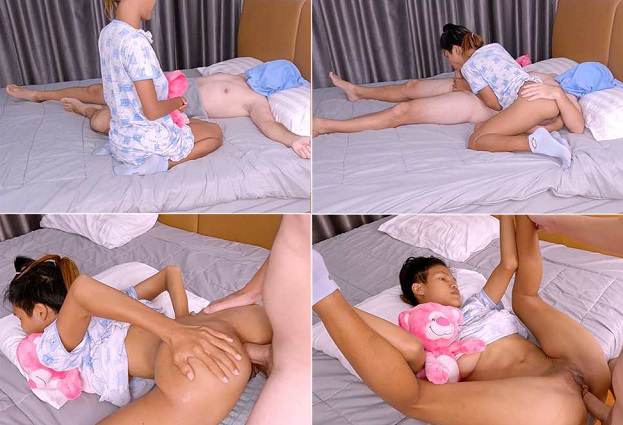 There was a big thunderstorm and I was SO scared! I asked Daddy to hold through the night. Daddy was really annoyed that I woke him up, but eventually he helped me. Sometimes the only thing that helps me relax is lots of anal. Two cumshots!
00:00 – 02:00 Lots of cute dialogue. Terrified of the thunderstorm I asked Daddy if I can stay in his bed and he reluctantly agreed. I brought my favorite pink teddy bear.
02:00 – 05:00 BJ. I don't know why Daddy's cock is so hard, I thought he was tired. I know the only way I can calm down when I'm scared is with anal.
05:00 – 12:00 Doggystyle anal on the edge of the bed. Lots of Daddy talk as I beg him to fuck me harder so I forget about the scary storm. He cums on my back, but it isn't enough. I tell that I will only calm down if he fucks me again and harder.
12:00 – 18:00 Missionary anal on the edge of the bed. I hold my teddy bear tightly. Daddy has been so stressed lately, I want to help him relax so we can both have a good night. I beg him to fuck me as hard as he can.
Format: mp4
Resolution: 1920 x 1080
Duration: 00:18:31
Size: 1103 Mb