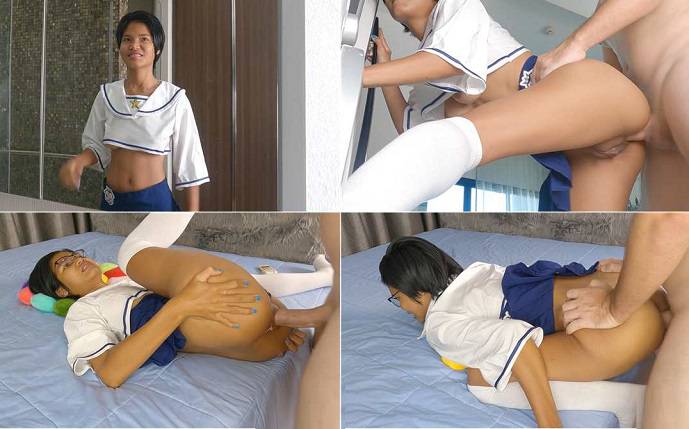 I really enjoy making the movies with some creativity! I hope you guys enjoy them too. Schoolgirl and Step-Daddy Roleplay, Anal only!
00:00 – 01:30 The intro. Jesse wakes up and does her morning routine, shower, makeup, and getting dressed for school. She gives Step-Daddy a kiss goodbye and tries to walk past him.
01:30 – 05:00 Step-Daddy grabs Jesse and explains he is horny and needs relief. Jesse, already late for school, begs for him to stop and let her go but he isn't listening. The first position is standing anal with leg up filmed from below in the kitchen with Jesse complaining loudly that she is late. Step-Daddy isn't finished yet and ignoring her protests drags Jesse into the bedroom.
05:00 – 10:15 Missionary anal at the edge of the bed filmed from the side offering a very clear view and good lighting. Jesse's face is visible the whole time and she continues complaining her teacher will be angry and punish her if she is late again. Her tight asshole grips Step-Daddy's cock as he deeply fucks her.
10:15 – 14:30 Sideways(?) anal, with her face visible Jesse twists her body and pulls her knees up to present her asshole for Step-Daddy's use. As her asshole relaxs and starts to gape there are a few shots from the camera below showing inside.
14:30 – 20:00 Doggy anal building in intensity to a deep anal creampie. Step-Daddy quickly inserts a large butt plug before any cum can drip out. Jesse will go through her school day with her ass filled with cum. She is sent away and walks slowly to the door rubbing her sore butthole (camera low looking up).
Format: mp4
Resolution: 1920 x 1080
Duratio: 00:20:07
Size: 1193 Mb