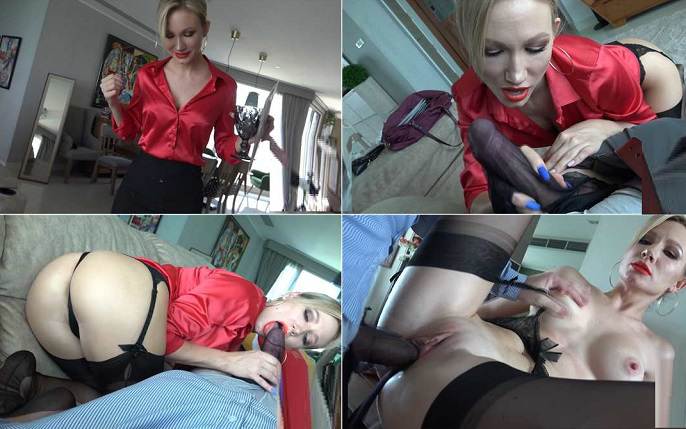 Angel is a door-to-door nylon seller of stockings and lingerie. So she also visits Rob's house. She introduces herself, and He makes her settle in. She wears a very short skirt, so the top of the stockings is visible from under the skirt, and he immediately notices it. While Angel is busy talking about nylons, the customer stares at her nylon legs on these sexy heels. His cock is already tight in his pants. And when she opens the briefcase to show the packs of stockings, he asks if she wants to have a drink, she accepts some water. He went to the kitchen to pour water for his sudden but already so welcoming guest.
He takes it and hands her the glass, but he is clumsy and wets her skirt. Angel did not expect this, and she is a little confused. But she had an idea how to sell more nylon stockings. So she will take off her skirt and sit on the sofa. So she shows that she is wearing black FF stockings with a garter belt. He is immediately interested
and asks her to show him better the quality of the stockings. Angel removes the
shoes and also shows her nylon foot. After she puts her foot close to his face,
he doesn't hold back and starts kissing and licking her foot. At first, she is slightly shocked but quickly relaxes and realizes that this man is her actual nylon buyer.
She lets him kiss her legs and feet. She gradually gets excited. She notices a bulge in his pants. She starts rubbing her nylon foot against his bulge and asks him to take off his pants. Then she takes one of the show
stockings. Angel is putting nylon stocking on his already big cock. Now penis in the nylon, Angel starts to tease him, lick it, suck it, kiss it, and after a while, giving him a footjob with her feet in black stockings, massages it, holds it
down. She continues then and allows him to 69 poses, so yes, they both lick each other for a few minutes. She leaves him lying on the bed and sits on top of him, letting his penis with stocking on it stuck in her wet pussy. She rides him for a while, then allows him
to penetrate her, and he gets on top of her. She feels him shudder, and then she
takes his cock out from her and takes off the stockings from his penis and holds it stretched over her face while he explodes on the nylon. Angel, nylon seller of stockings, licks cum off the nylon stockings, playing with it her fingers. She even inhales the smell of cum and enjoys it on the nylons, so hot.
Format: mp4
Resolution: 1920 x 1080
Duration: 00:34:55
Size: 2146 Mb