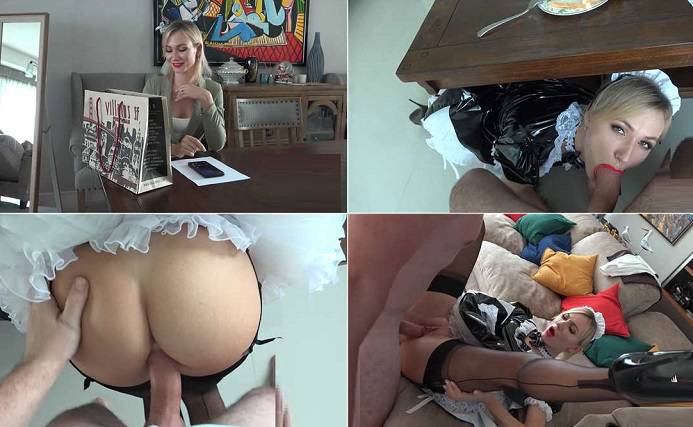 The clip would open with you sitting on the sofa lazing around when your husband/Partner would enter the scene and give you a Gift which you would open to reveal a PVC French Maid outfit. You would be disgusted by this saying it was demeaning and that you'd never wear something like that you'd then storm off. Your partner would then produce a second box saying something like "good job I got these" to himself/the camera. He would then find you and present the second gift which you would open to reveal a pair of high heels (The Taller the heel the better)
You would then put the heels on accepting his apology once you had done this he would produce a remote control and press it this would then take over you body and convert you into a robot you would then immediately say "Yes Master" and then walk over to the box containing the maid Uniform and start Putting in on. The Uniform should preferably consist of the heels your partner gave you, Stockings and suspenders, the dress, a head piece and a feather duster. Once dressed your partner would then command you to give him a blow job and then swallow his cum. The scene would then fade to black.
It would then fade into the next morning where you are still in the full maid outfit and serving your master breakfast at the table once served you would stand beside him while he takes a few bites. He would then command you to give him Blowjob under the table you will respond yes master and then crawl under the table to start the Blow Job. After he has finished breakfast he will command you to stand up and bend over the table wear he will the fuck you doggy style with some occasional spanking until he cums in your pussy then commands you to clean up with his cum dripping down your legs.
Then the final scene would be the following day you are wearing a business suit getting ready to leave while wearing the heels when you find a remote you don't recognise and Pick it up pressing the power button this activates the heels again you say yes Master then start to change into the maid outfit again. Once dressed you then tidy up the business outfit you were previously wearing then stand frozen at the door waiting for your Husband/Master. When he arrive home he is surprised to see you dressed up in the maid outfit before taking advantage and commanding you to give him a blowjob before switching to missionary before finishing with Doggy style anal. He would finish on your ass (this would be the real cum shot) before the scene finishes with him commanding you to bring him dinner with his cum still on your ass
It's important the the maid outfit remains on throughout the sex scenes. There should be plenty of yes masters thrown in through the whole clip.
Format: mp4
Resolution: 1920 x 1080
Duratio: 00:44:14
Size: 1376 Mb