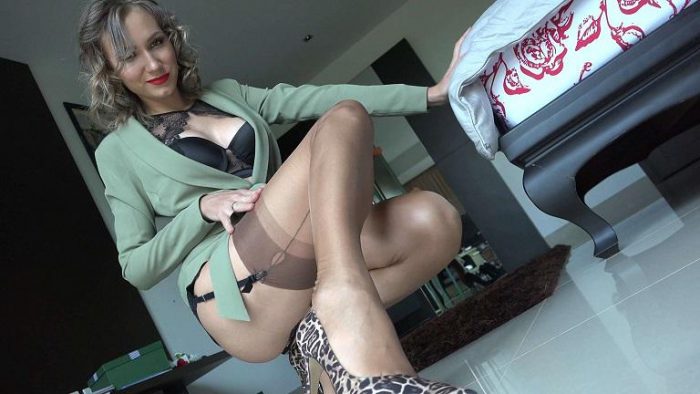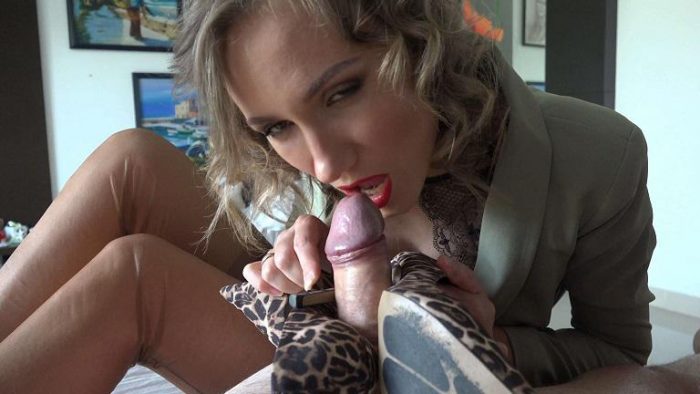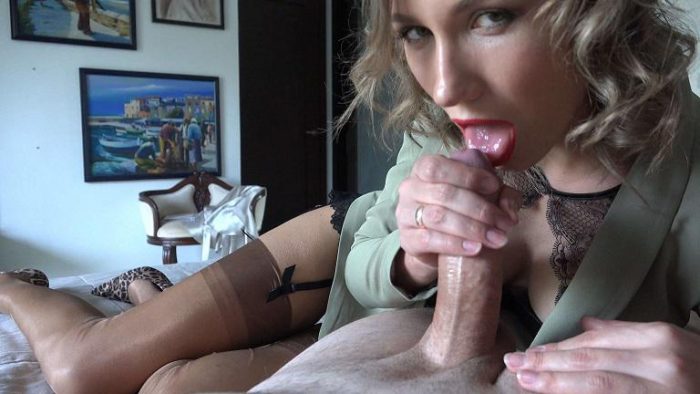 Angel wear on her cuban heel fully fashioned stockings. Her lips are painted in a red matte color. She wears black underwear and garters. You watch her as she gently put her stockings on her sexy legs, she notices that you are looking at her and she smiling, her eyes are starting to shine… now she is giving you the best teasing shoejob. She's gorgeous and soooo fucking sexy! She teases you by showing off her nylon legs on high heels. Your cock starts to get hard in your pants. You are lying on the bed. She comes to you "Hello dear, you're awake," she starts teasing you with her shoes and nylon legs.
She takes off one shoe and starts to play and tease you. Angel holds the shoe over your cock and giving you a hot handjob. Then she takes off both her shoes and starts giving you a shoejob, she teases you without stopping, her face has the most naughty smile. She wants to see how your cock will twitch and you will beg her to let you cum on her shoes and nylon legs. Now she wants to tease you even more. She gives you a shoejob for a while. You are ready to cum, your nuts are full, you are ready to shoot all your liquid on her shoes, but she does not allow you to do this.
She torture you even more and longer, she gives you a handjob and shoejob. Now she wants to get your sperm, all your sperm to the last drop, she licks her red lips and is thirsty when you shoot your white warm sperm on her shoes. Clutching the heel and soles of the shoes, she jerks off your cock and at this moment you completely nuts, you shoot at her heels. She is so much surprised that you shoot a lot of sperm on her favorite heels. And now she finally dip your cock into her smooth, moist and warm mouth. She sucks the remnants of your sperm. For tomorrow, you better get ready because she has a few more surprises for you that you still do not know about.
Format: mp4
Resolution: 3840 x 2160
Duratio: 00:21:56
Size: 1.93 Gb