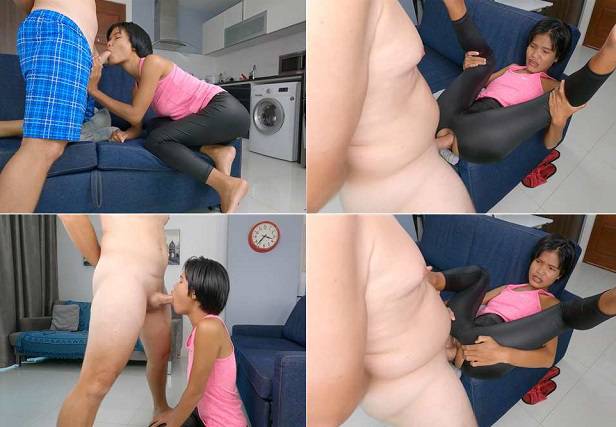 I really want to go out with my friends, but I don't have any money! I thought maybe Step-Daddy would help me but he is being stubborn. So I had an idea and proposed a deal to him. I had to trick him, but once I started he agreed!
00:00 – 00:40 Some small dialogue to set the scene up.
00:40 – 03:40 BJ on the sofa showing off my sexy tight pants.
03:40 – 08:00 I tell Step-Daddy that if he gives me $50 he can fuck my ass and cum on me. He agrees and fucks me missionary position with me on the arm of the sofa.
08:00 – 08:40 He cums all over my tight pants and stomach. I know $50 won't be enough and I ask him for another $50 if I can make him cum a second time. He agrees and I quickly drop to my knees and take his still hard cock into my mouth.
08:40 – 11:00 I know just how to suck it to make Step-Daddy cum and it doesn't take me long.
11:00 – 11:34 He cums all over my tits and chest. WOW! It is so much. I think I need to change before I go outside. But at least I have plenty of spending money for the weekend.
Thank you!
Format: mp4
Resolution: 1920 x 1080
Duratio: 00:11:50
Size: 705 Mb