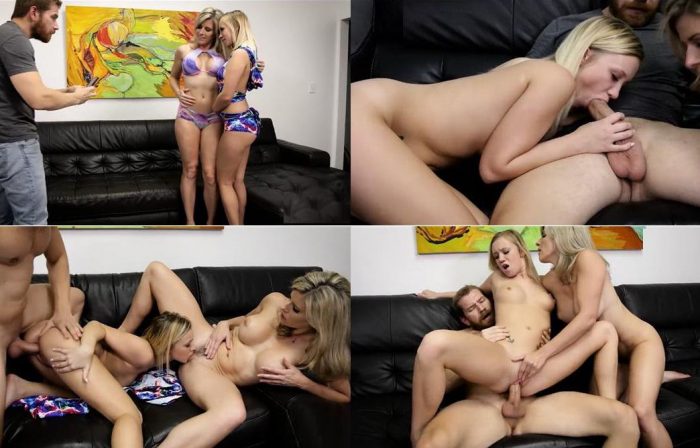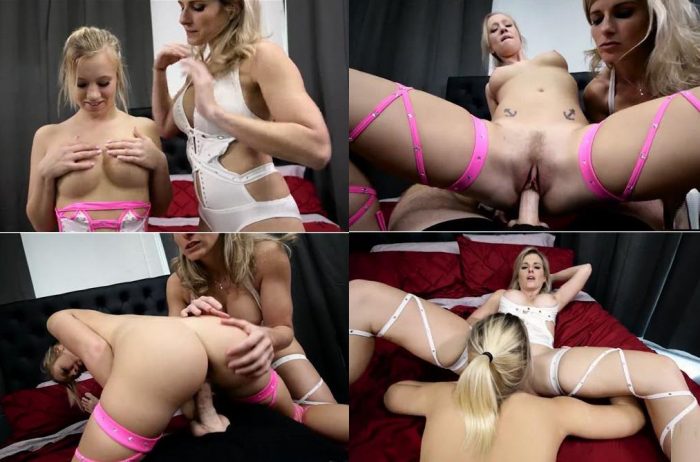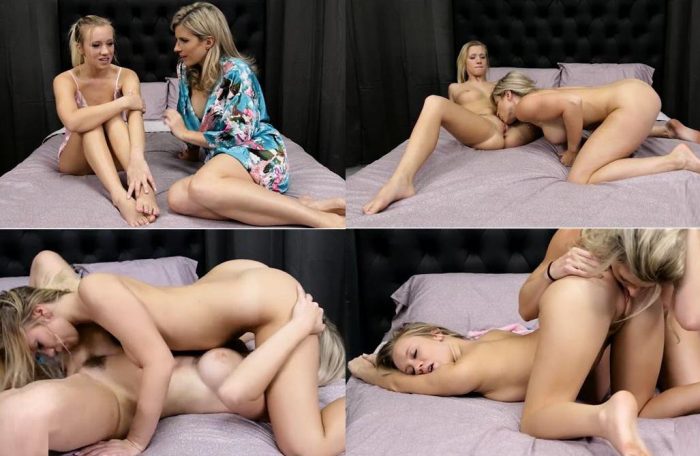 Background – In the video Mom is not that reluctant in doing what the Boss wants. Dad has made it clear Mom and Daughter need to please the Boss. Bailey is reluctant at first so has to be gently forced but at the end she is more turned on to what's happening.
Scene One: For the Family
Mom and Daughter are in the living room with the Boss, he is sitting while Mom and Daughter are standing modelling the outfits. He says how great you look and thank you for agreeing to model the outfits. He also says it was so good for your husband to have come up with the idea and how it was a shame he had to send your husband away on business this weekend. He tells you that him and his wife have a lot of power in the company and with the total support of his family your husband will get the big promotion he has wanted for so long.
He takes some photos for his wife and then reminds you all the family needs to show full commitment. Mom gets Bailey to come in now to get her to model for him. He takes more photos and Bailey is a little reluctant but Mom starts to model with her. He says how sexy they both look in the outfits and Mom tells Bailey what to do as she touches and kiss her. The boss starts to touch both of them. While he is touching them both, Mom starts to strip and also start to strip Bailey.
Now Mom sits next to the Boss as Bailey stands in front of him he asks how much you want to support your husband you say fully. Mom then puts her hand on his trousers and opens them and takes his cock out. Daughter is shocked but Mom tells her to sit down the other side of the Boss. Mom starts sucking his cock as he plays with daughter's body. Mom then kisses her daughter and then forces her head down and to make her suck him.
You then get the boss to sit and get Bailey to sit on top with her back to him and ride his cock as you sit by them playing with her tits and pussy and then forcing her to her kiss your tits.
At the end you make him cum over her face and you then lick the cum off and have a long kiss with her.
Scene Two: Yes Father
Mom is in control and horny and wants some fun with Daddy who is happy go along with her. Bailey is nervous at first but happy to model her outfit for her dad but is unsure as things get hotter. She thinks it wrong but does what she is told but is a little reluctant at first but by the end she is doing anything you tell her to do.
Mom is in bedroom Dad tells her the boss was very happy with the visit. He had also shown Dad some of the photos and how sexy they both looked. Then tells Mom how sexy she looks in the outfit she is wearing now.
Bailey enters the room and stands there. Mom gets her turn around and model the outfit. Mom has Dad touch his daughter as Mom strips Bailey nude. Bailey is reluctant but goes along with Mom and Dad. Mom goes down on Bailey as she instructs Daughter to suck off her father.
Mom then instructs Daddy to fuck his daughter while Bailey eats out her Mother. Dad and Daughter alternate positions while Mom blows and tastes her Daughter's pussy on Dad's cock.
At the end her dad cums on Bailey's tongue and Mom lick's it up and then have a long kiss.
Scene Three: Yes Mother
Mom is in control and wants to have some fun. Bailey is unsure if she should be doing this but once Mom starts playing with her body and turning her on she does anything Mom wants.
Both enter your bedroom and sit on the bed Mom tells Bailey she wanted to talk and make sure she is alright. Mom tells her that her dad has gone out on a business trip so it's just the two of you so good time to talk make sure she is okay.
She tells Mom she is a shamed about what she had done with the boss and especially with Mom and Dad. She says she can understand the boss but why did her Dad and her Mom want to have sex and wasn't that wrong. Mom tells her that she and her dad love her and want to show their love for her and because she was now such a sexy young woman you and her dad want to show her the pleasure she could get from her beautiful body.
As the talk continues, Mom started to gently touch Bailey's arm running her hand slowly up and down and then starts playing with her neck and then hair…Leading to a full blown lesbian Mother and Daughter love scene…
Categories: Father – Daughter, incest video, father daughter sex, taboo porn, taboo sex, Taboo, daddy daughter, Luke Longly, daughter, cum shot, cory chase, bondage sex, bush, hairy bush, blow jobs, cum shots, blackmailed
Format: mp4
Resolution: 1280 x 720
Duration: 01:02:59
Size: 1697 Mb
aincest – 16369 BAILEY BROOKS IN MY STEP MOM SHOWS ME HOW TO FUCK MY STEP BROTHER.rar