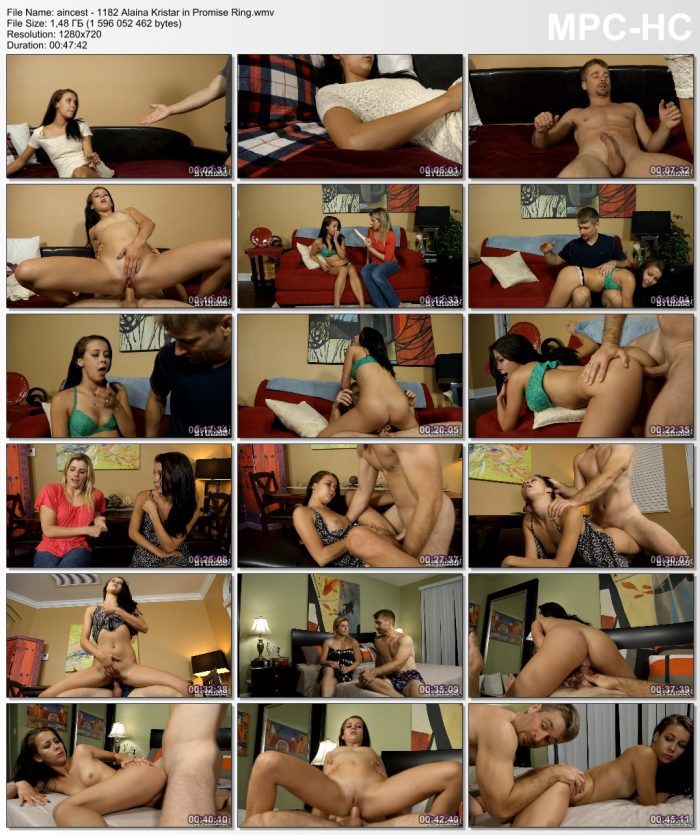 Scene One: Promise to stop masturbating
Alaina and her dad have just come back from church where she has received her promise ring. She recites to her dad that she will not do anything sexual until she is married. Asking if she can go to her bedroom she gives her dad a kiss and leaves. In her bedroom she starts to masturbate, releasing her sexual tension. Her dad walks in to find her with her legs spread and yells at her. Alaina tells him she can't help it and doesn't know if she will be able to last until marriage. Grabbing her fathers crotch she asks if he can help her. In control of her daddy she takes off his pants and rides on top of him until she cums. Thank you for helping me cum daddy she says.
Scene Two: Promise to never suck cock
Cory finds her daughter on the couch sucking a dildo. She is shocked and yells at her about the promise she made. Cory tells her husband about the dildo and storms off leaving dad to punish her. He pulls Alaina over his lap and takes off her pants and panties spanking her. He takes the dildo and puts it inside her fucking her with it as punishment. Cory walks in as dad spanks and dildos her and make her promise to never suck cock. Alaina promises but as soon as Cory leaves gets to her hands and knees and sucks her dads cock. I promise to never suck cock unless it's my daddy's. He cums in her mouth and it dribbles out onto her shirt as she shows her dad how much she loves cum.
Scene Three: Promise to never tell mom
Mom is making lunch for Alaina and her father. She asks what they want, then goes into the kitchen. With mom gone Alaina pulls up her skirt and shows her vagina and bra. Do you like them daddy She asks. I promise only to wear nothing under my clothes from now on. She slides her dads big cock in her mouth and sucks him. With his cock hard she gets on top of him and fucks him bouncing and moaning like she has never been fucked before. Cory comes in to asks what they want on their sandwiches. Alaina hides what they are doing with her skirt, unwilling to let her daddy's cock go. When he gets ready to cum she gets to her knees and lets him cum in her mouth again. She plays with it, savoring the flavor before swallowing it down. Cory serves lunch and Alaina says Thanks mom but im already full.
Scene Four: Promise to only fuck your daughter
Mom is in the bathroom getting ready for bed when Alaina comes into her parents room. Dressing in lingerie and stockings she pushes her dad on the bed and tells him that he must promise to only fuck his daughter from now on. She sucks and fucks her dad like a professional. Her young tight body doing things to him that his wife never did. Alaina sucks her dad off making him cum over her perfect face. With a smile she leaves as Cory comes out of the shower. Alaina gives her confused mom a kiss and leaves the room. Why was she dressed like that? And what's that odd taste in my mouth Cory asks …
Format: wmv
Resolution: 1280 x 720
Duration: 00:47:42
Size: 1.48 Gb
http://fboom.me/file/51fef36a6593e/aincest_-_1182_Alaina_Kristar_in_Promise_Ring.part1.rar
http://fboom.me/file/fbfef281cf9aa/aincest_-_1182_Alaina_Kristar_in_Promise_Ring.part2.rar