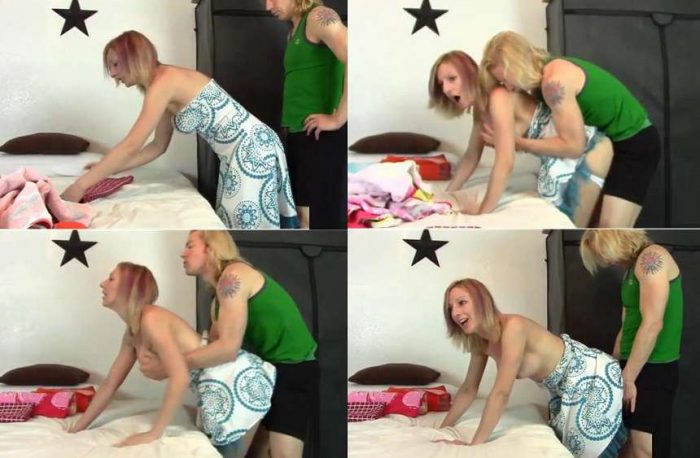 A hot blonde MILF is in her bedroom and she is starting to fold some laundry. Her step-son walks in and asks what she is doing. As she is talking to him he is checking out her ass and can't control his taboo desires as he starts to rub his cock on his step-mom's ass even though his boxers are still on.
Step-Mom is not happy and tells him it is not appropriate for him to be doing what he is doing to his own step-mother, but he continues to do the taboo ass grinding and even starts groping her ass and then her tits. He starts to unzip her skirt, but she stops that right away. She seems aggravated, but is allowing the taboo action to happen, perhaps because he is keeping his boxers on.
Without warning he flips her skirt top down and start to fondle and grope her big tits as they are now exposed. As he is doing some taboo titty squeezing she asks what happened to the girl he was seeing. He tells her she is away and he continues to ass grind and squeeze her fat tits. He keeps telling step-mom how hot she is.
When step-mom asks what his friends would think, he replies that they all think she is a MILF anyway. He then pulls her panties down and she is no pleased with this. She tells him to pull them back up but he gets really into the ass grinding now.
As she has been the whole time, she continues to fold the laundry. She is almost finished with the laundry and tells him she has a lot more housework to do so he needs to get on with it and just finish. He continues to treat his own step-mom like a sex object and in no time at all he is cumming in his boxers.
Format: mp4
Resolution: 1280 x 720
Duratio: 00:07:12
Size: 76 Mb