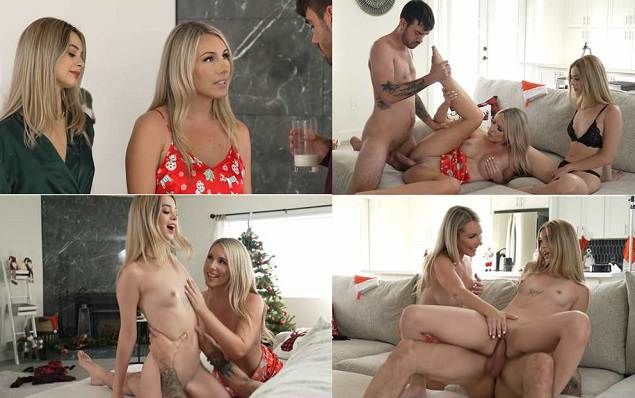 Wearing aprons over their sexy tops that really show off their titties as the spaghetti straps fall from their shoulders, Bunny Madison bakes cookies for Santa with the help of her house guest Molly Little. The cookies are just out of the oven when Nade Nasty, Bunny's stepson, wanders into the kitchen. He does see the cookies, but he also notices those enticing titties and hard nipples peeking out. Nade tries to tell the girls their boobs are out, but they keep interrupting him and telling him that he should go to bed early…
Later, Nade wakes up in the middle of the night and sneaks out to munch on the cookies and milk that were meant for Santa. Bunny and Molly catch him and let him know he shouldn't drink the milk because it's special. Nade asks if the milk came from their boobies, then asks if he can have some. The two girls agree to let Nade suck their nipples, which just makes them ultra horny. Molly tells Bunny she won't tell anyone if they're all naughty, so they take their party to the couch.
While Molly is peeling off her jammies, Nade dives deep into Bunny's cooch. Molly can't help but masturbate as she watches, but she wants a turn of her own! She gets one when Nade sits up so Molly can sink down and ride the D in cowgirl as Bunny spanks her. The girls work together to blow Nade and suck his balls for another round of fun. Then Molly goes for it in reverse cowgirl as Bunny lets her stepson's tongue make her moan. Nade fucks Bunny as she lays on her back one last time, then pulls out to cum all over Bunny's bare twat just as his dad and Molly's mom come home.
Format: mp4
Resolution: 1920 x 1080
Duration: 00:22:54
Size: 1455 Mb