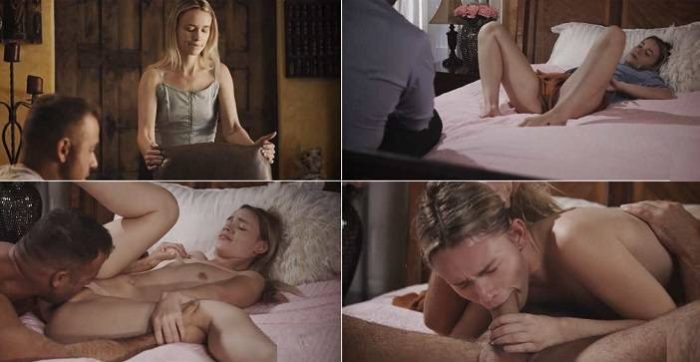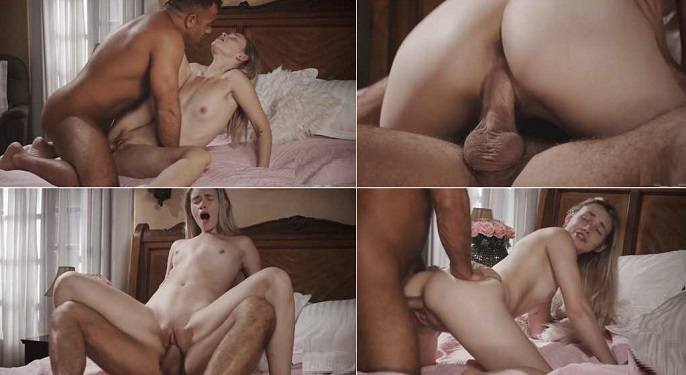 This morning, stepdad Chad (White), is agitated, as his 19 year old stepdaughter Khloe (Kingsley) comes to the kitchen for breakfast. She senses something is wrong, and he bluntly makes the announcement: "Your mom left. She's gone". "When do you think she's coming back?", Khloe asks. "I don't think she's coming back", Chad says.
Khloe's father left her & mom too, and she feels abandoned, declaring: "Nobody loves me", as she suddenly leaves the room. Later, Chad is distraught as he goes through the drawers of the dresser in his bedroom, clutching at clothing his wife left behind. Khloe visits him and apologizes for her reaction that morning, and they sit on his bed together to discuss their future. He gives her a big hug of solidarity.
Khloe pours out her feelings: "My parents left me. Most guys won't even look at me. What if there's something wrong with me? I'm gonna die a virgin". Chad reassures her that everything will be okay, and they hug again. Later, Chad's on the phone with his wife Samantha, angry about what she's done, especially leaving her daughter high and dry. He tells Khloe about the call, noting: "She doesn't want to come back". "So, am I an orphan now?", Khloe asks, half-seriously. "I'll never leave you", Chad Insists, cuing yet another hug.
"You're all I have now. Is it weird that I have the urge to kiss you?", Khloe asks, with a wry smile. But instead they hug once more, agreeing to make time to get to know each other better, Khloe confessing that she had not related to him after he married her mom, thinking of him more as just her mom's "next boyfriend". The next morning she goes to his room and finds Chad on his bed naked, lying asleep on his stomach.
Amused, she sneaks up on him quietly, and lightly brushes her hair against his butt, causing him to react briefly, still asleep. She next tickles his foot, then the other one, finally waking him up. As Khloe tries to hide by the bed he spots her and she pretends: "Found it!", claiming she discovered her mom's earring on the floor by stepping on it accidentally. Handing him a cup of coffee she's brought, Khloe gives her daddy a kiss on the cheek.
"If you weren't my stepdad, would you find me attractive?", she inquires, and repeats her "gonna die a virgin" refrain, asserting: "Guys my age just don't like girls without experience". Putting her hand suggestively on his thigh, she announces: "I want to trust you with my virginity". He insists it's not right, but Khloe persists: "Mom left us here all alone. It's like she wanted you to care for me and for me to take care of you". Chad's had enough and orders her to leave the bedroom.
Later, he finds her lying on her bed, despondent, with Khloe declaring: "What is wrong with me?". As he tries again to dissuade her, she says: "I want to show you a part of me that no one else has seen before. Please don't tell me no -it's very important to me". She removes her shorts and panties and begins to rub her pussy, saying: "Look at me daddy". He continues to resist, but she says: "You're hurting me by rejecting me". She won't give up, and kisses Chad on the lips, declaring: "It's okay. I trust you. I want you". That does it – after much kissing, daddy takes charge, removing her t-shirt. He kisses her breasts and then fingers her pussy, declaring: "You're so tight". Watch the taboo scene unfold…
Format: mp4
Resolution: 1920 x 1080
Duratio: 00:47:01
Size: 1400 Mb