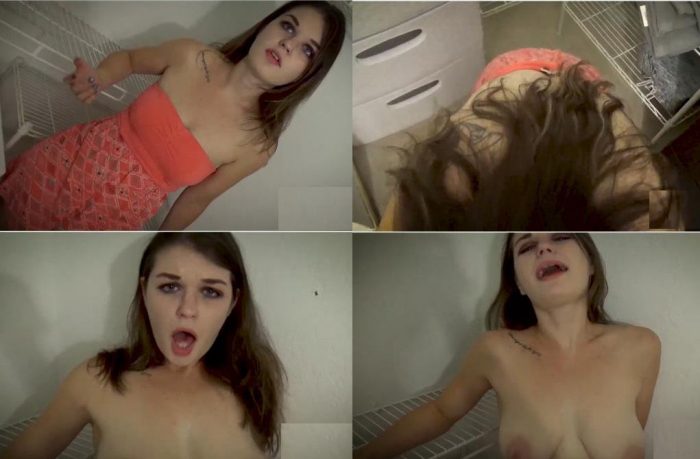 Added: 11/29/18 9:00am
This clip includes: Anastasia Rose, brother/sister, POV, your parents go out of town & you guys throw a huge party, friends arrive & everyone begins playing a game called 7 Minutes in Heaven, 2 random people go into the closet together and "things" happen – kissing, groping, or fucking, you happen to get paired up with your sister, your sister knows everyone is listening outside the closet & doesn't want to come off as a chicken, sister asks you to grunt as if you're getting pleasured but you don't, she begins fake moaning & you get turned on by it, sister explains that you can't leave the closet with a boner or everyone will know you guys were faking it, sister tries to get rid of your boner, pulls down her dress to expose tits, virtual handjob, you can't get off from a handjob, virtual blowjob, deepthroating, sister notices that you are enjoying yourself & is disgusted, sister realizes that she has to go all the way with you to get you off, virtual sex, missionary, you cum inside of her, creampie, brunette, blue eyes, games, long hair, family, siblings
"No parties," you promised your parents, but of course it was a lie. The moment they were out of the house, you and your sister called all of your friends for a huge gathering at your house.
Some of the guys arrived with alcohol they had stolen from their parents while others brought some smoke – it was going to be a hell of a night. Everyone was having fun and things began to heat up when everyone started playing 7 Minutes in Heaven. It was a simple game – one person would get to spin the bottle and whoever it landed on was the person they went into the closet with.
Now, what happened in the closet? ANYTHING. People would make out in there, get handsy, and even fuck. And everyone else would listen outside the closet snickering and cheering each other on.
"Just my luck," your sister sighed. "I can't believe I'm playing 7 Minutes in Heaven and I got paired with my brother. I mean, out of all the hot guys out there…." The two of you looked at each other unsure of what to do. And even though you were related, your intoxicated friends expected to hear something exciting.
"They're gonna know if we don't do anything – they're probably listening at the door. We're not really gonna do anything, but maybe we can seem like we did something," Anastasia suggested. "I don't want them to call us pansies…the whole school would know – it'd be embarrassing." She suggested that you grunt, as if you were getting pleasured, but that sounded stupid.
Category: Virtual Incest, Virtual Sex, Sister and Brother, sister brother sex, brother, sister, siblings, pov, family, games, virtual sex, brother and sister, sister and brother, brother fucks sister, sister fucks brother, handjob, blowjob, fucking, creampie
Format: mp4
Resolution: 1920 x 1080
Duratio: 00:10:28
Size: 220 Mb