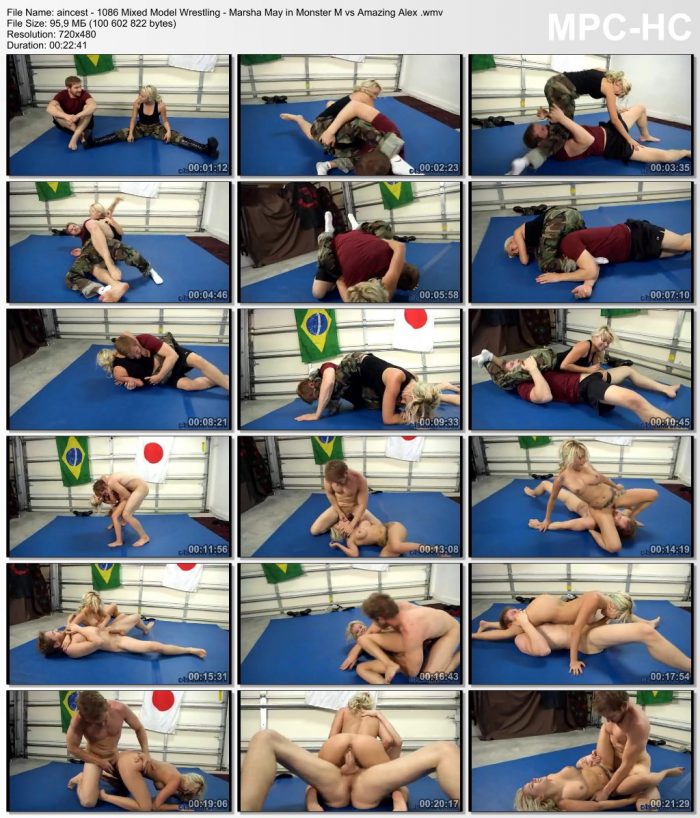 Added: 5/22/15
Scene One: Big brother wrestler
Monster M is stretching at home after her wrestling tour when her brother the Amazing Alex comes in to chat. She's fought a lot of girls, even some guys this season and she has a winning record. You're tough, but your still a girl. Do you know what I mean Alex says. Her older brother has always put her down, but after this season she's unbeatable. What are you trying to say? You don't think I could win? You don't know what your in store for! M says. They begin to wrestle.
Alex is strong but he hasn't wrestled in a long time and his sister wiggles and squirms her way on top of him again and again. She pins him with her ass in his face and laughs. Giggling and smiling the energetic M makes a fool of him. M even grabs his junk to get the upper hand making him shout out in pain.
Scene Two: Breathe brother
Alex gets more and more tired as the Monster wears him down. As they wrestle their hands go everywhere. No longer is Alex afraid of touching his sisters breasts. She's going down and he's going to do whatever it takes to make that happen.
But tired as he is Alex lets her get behind him and put him in a choke hold. His vision begins to go fuzzy and he gasps for breath before she lets him go.
She doesn't want to admit it but wrestling with him is turning her on so much. Pinning him in a leg lock he's helpless as she pulls down his pants and begins to play with his cock. What the hell is happening, he thinks. M is so horny he's just going to have to let her touch him. Stay still! She demands.
Scene Three: Winning fuck
We should wrestle like the Greeks M suggests. What? is all he can choke out after his sister was touching him. Let's wrestle naked! She begins to strip. He doesn't know what to do. Is it the lack of oxygen or his hard on, but he strips as well.
Naked they begin to wrestle again. Now when she chokes him with her legs her pussy is inches away from his face. It sends a sick thrill through her and she jerks his cock again.
Alex has had enough! With a burst of strength he pushes her down and shoves his cock in her laughing taunting mouth. She spins around on him and they begin to fuck. They constantly want to get the better of one another pushing each other to the ground, fucking and fighting for control. M puts her brothers face in her pussy. He puts her his cock in her mouth and they fuck until their a sweaty moaning mess.
They continue their fuck battle 69ing and drilling each other. She teases her brother as he gets behind her by leg locking and keeping him from pushing inside her. He breaks her hold and makes her eye's roll back in her head as he destroys her pussy.
The only way he's going to be able to get off is if he can hold her down long enough to fuck her hard and fast. He pushes and pins her to the ground. She squirms but he hold strong and thrusts until he's ready to cum hard. Pulling out he shoots his load all over his sisters breasts and stomach. I guess you're the champion bro! She laughs and they high five.
Format: wmv
Resolution: 720 x 480
Duration: 00:22:41
Size: 95 Mb
http://fboom.me/file/274c03c551579/aincest_-_1086_Mixed_Model_Wrestling_-_Marsha_May_in_Monster_M_vs_Amazing_Alex_.rar