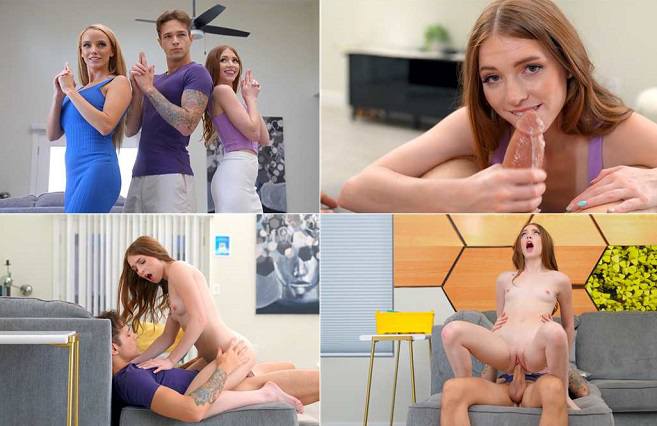 Myra Moans is a contestant on a new gameshow hosted by Pristine Edge. The purpose of the gameshow is for Jayden Marcos, Pristine's son, to pick his new stepsister. The only qualification is that the girls need to have a single dad for Pristine to marry. Myra's interview video is definitely sexual, but with an undertone of playfulness.
Today's date is to do a blended family photoshoot, so they head off to get started with that bonding. Myra takes every opportunity to get handsy with Jayden, and her come-ons are definitely appreciated. When Myra brings her blocks out to play, Jayden tentatively agrees to play with her. Myra makes her real intentions clear, so Jayden gives his mom an excuse to leave the room to get some real, genuine time with his potential new stepsister. Myra goes right to flashing her pussy and promises to play nice with Jayden.
When they come together, Myra holds nothing back. She sucks Jayden down in an enthusiastic blowjob. Turning around, she hikes up her miniskirt to jiggle her ass at Jayden before coming back to plant her pussy on his cock. Riding him hard, she switches from cowgirl to reverse cowgirl. On her knees, Myra watches Jayden pound her twat. She finishes on her back, urging Jayden to cum all over her. Unfortunately for Myra, Jayden sees too many red flags to choose her to be his little stepsis.
Format: mp4
Resolution: 1920 x 1080
Duratio: 00:30:50
Size: 1147 Mb