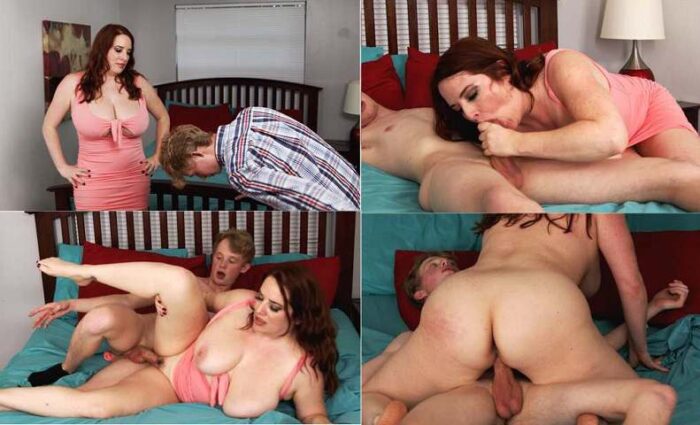 Jimmy Michaels is shy and not particularly socially adept. He knows that he wants to go to the school dance, but he doesn't have a date and doesn't care to go alone. When his stepmom, Maggie Green, discovers that Jimmy isn't intending to go, she decides to take matters into her own hands. Busty Maggie gets Jimmy up off the couch and says that she'll measure him for a suit so he looks quite handsome. The only catch is that Jimmy has to strip down to his boxer briefs so she can measure the fit appropriately…
When Jimmy obeys his stepmommy's admonition to take off most of his clothes, it becomes painfully clear that he has a big boner. Maggie tries to measure around it, but eventually she can't take it anymore. She pulls Jimmy's briefs down to start stroking him off. Then Maggie shoves him back against the wall and pops her big jugs out so that he can suckle mama's huge tits. Now that Maggie has begun to help Jimmy out, she won't quit until he has gotten his rocks off, with her help of course. She guides him to the bed, where she lays Jimmy down and goes to town sucking and stroking him off. Then she lays down and invites Jimmy to have his way with mom.
Even as he's sliding on home, Jimmy can't believe he's getting his dick wet in his stepmom's twat! He curls up behind Maggie to spoon with her. Then Jimmy rolls onto his back so that Maggie can climb on top and ride him like her personal steed. Jimmy gets a crack at Maggie's snatch again as he gets his stepmom on her hands and knees to take her in doggy. Rounding out their educational lovemaking, Maggie flips onto her back and lets Jimmy take her home one last time in missionary. When she's had enough pleasure, Maggie gets on her knees to suck Jimmy off until he pulls out of her mouth to nut all over her face in a cum shot that drips down her massive boobs and leaves them both feeling great.
Format: mp4
Resolution: 1920 x 1080
Duration: 00:22:07
Size: 1693 Mb