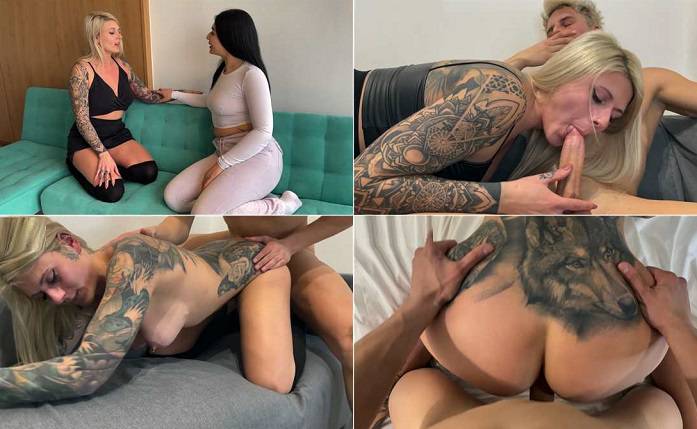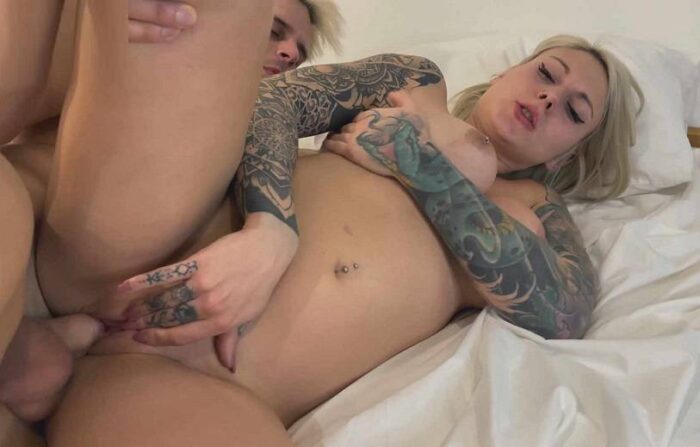 In this week's brand new episode, we're letting desires run wild! "Helping Stepsister Find Her Inner Slut" proves that some taboos are meant to be ignored. Especially when your stepsister is a hot tattooed blonde like Lila Evance!
Lila Evance is in a bit of a bind and asks her friend Anna-Maria for some timely advice. You see, this horny blonde really likes this guy she is dating, but feels that she is doing something wrong with him, as the guy just can't get it up! In other words, she needs help in the sexual department and Anna-Maria suggests the perfect solution. Lila should practice and hone her skills on her stepbrother Sakis Dermatis! After all, they aren't actually related and live in the same house. Above all, stepbro is one good-looking Greek muscular hunk!
PLANTING THE SEEDS OF TABOO DESIRE!
Subsequently, big tits stepsister Lila Evance comes up with a plan to seduce Sakis. She purposely stuffs her panties between the sofa pillows and leaves her phone behind. When stepbro later goes to chill, he finds her phone on the sofa and starts scrolling through her photos. He is surprised to find a series of topless nudes between stepsis and her bestie rubbing and touching! At first, Sakis tries to get rid of his naughty taboo thoughts. But eventually, he cannot withstand the temptation of stroking his cock and masturbating to his stepsister's spicy pics!
HELPING STEPSISTER BECOME A GOOD SLUT!
As soon as Lila appears, Sakis squirms to get dressed! However, naughty stepsis is all smug and handsy with him. Not to mention, she pulls up her skirt, to show off her delicious bubble-butt and pierced pussy without any underwear! Sakis feels uncomfortable, to say the least. His own sister is coming onto him, begging to be educated on how to give a good blowjob!!! By the time her hand glides over his erect cock, there's no turning back. Therefore, Sakis plays along with his hot stepsister's wicked game. Lila Evance starts deepthroating his big dick with excitement and it quickly becomes apparent that their attraction goes beyond familial. Even so, they can't go any further. can they?
Format: mp4
Resolution: 1920 x 1080
Duratio: 00:57:10
Size: 2505 Mb