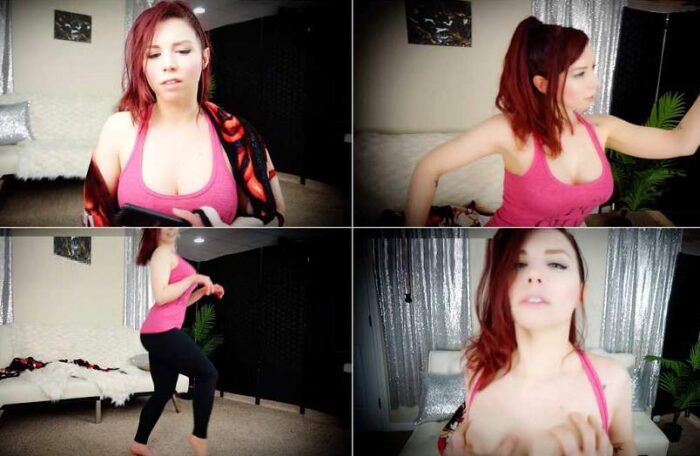 Clip Includes: Then Freezes Her A few Times in the Middle of Her Sexy Dancing and Booty Shaking, Posing, Limb Manipulation, Unblinking Blank Stares, Real Doll, Timestop, Pulls Down Her Yoga Pants to Expose Her Big Bare Booty, Then Unfreezes Her, Embarrassed, Falls Down Trying to Pull Up Pants, Made to Act Like Different Pets, Stripping to Full Nude, Big Tits, Tit Play, Big Butt, Booty Jiggling, Woman Following Orders, Curvy, Thick, Redhead, PAWG, Slave Position, Eager Slave, Horny Bimbo, Booty Groping, Ludella Hahn, Contains FULL NUDITY
"Okay loser, you've had control of the TV all day and it's my turn, so why don't you go jerk it in a sock or something." Ludella grabs the remote from POV. Her cleavage is in his face when she bends down to get it and he can see that she's not wearing a bra. "I don't care what you do as long as you're far away from me. It feels like forever that I've been stuck in this house with you because of this damn quarantine….ugh…" When she walks away he can't help to stare at her big booty in her yoga pants. She plops onto the couch and wraps a blanket around herself. Well, there goes his view…for now…"You're just going to stay? Ugh. Well, I'm about to binge-watch The Bachelor, so that's what you're about to watch, loser."
She's such a prissy little bitch so used to getting her own way. It's time to make this quarantine a lot more interesting. POV pulls out his phone and opens the Reality Remote Control app. While she's immersed in the TV, he enters a command for her to play with her tits. Without realizing it, she slips off the blanket and begins playing with her tits. It takes a while before she notices, and when she does, a look of sheer horror comes across her face as she quickly pulls the blanker back over her chest.
"I–I don't know why I did that. I think I'm going crazy from this quarantine…" She looks embarrassed, but returns her attention back to the TV. POV enters the command for her to do a sexy dance. When he presses the button, she once again removes the blanket and begins to sway her hips and shake her ass. In the middle of her dancing, he enters the command for her to freeze, and when he presses the button her body freezes in position. He keeps her frozen for a moment before commanding her to dance again, and she picks right back off where she was, He repeats this timestop a couple more times…starting and stopping her in place. She stares blankly like a doll.
On the 3rd freeze, he gets up out of his chair and walks over to her. He looks her up and down and poses her limbs. She continues to stare unblinkingly ahead, as stiff and frozen as a mannequin or a porcelain doll. He turns her around and pulls down her yoga pants so that her big bare booty is sticking out exposed. Then he returns to his seat as if he never moved and enters the command for her to unfreeze. It takes her a second to register that she's standing up with her ass hanging out, but once she notices, her eyes grow huge with embarrassment and she stumbles trying to pull them back up, tripping and falling onto the couch. She finally gets her tight leggings up over her juicy booty and curls up on the sofa, hugging the blanket to her…humiliated!
"I would NEVER show my ass to you. Ugh….what's happening? I'm really going crazy. I must have the virus or something because never in a million years would I let you see my naked body. So don't get any ideas…Ugh! Gross… Loser!" Annoyed at her bitchiness, POV decides to have some more fun making her do some humorous and humiliating things…like playing different pets. Not only does she eat the plants, wag her ass, and pant her tongue…she even prances around like a showpony. He then makes her walk around like a zombie in a mindless state repeating, "You are Master. I must obey."
And after a while of that…it's time to make her into the ultimate horny eager bimbo slave. He enters the command into his remote and presses the button, transforming her into a bubbly and horny bimbo right in front of his eyes. "Oh, Master…I'm going to make this quarantine so much fun for you…" She pulls out her tits. "Yes, Master. My tits belong to you. They are yours to play with. My whole body is yours to see and touch." She gets on the slave position on the floor looking up at him. "I just want to please you, Master." She plays with her tits some more, looking up at him with her bedroom eyes. "Yes, Master…I'll take off all my clothes for you." She gets up and strips off her tank top and yoga pants, looking back at him seductively as she peels the leggings off her juicy curves. "I'm all yours, Master." She sways her hips and ass back and forth in front of him completely naked, jiggling her booty before she bends over the couch. "Aren't you going to take what's yours, Master?" She grins. POV comes toward her and runs his hands down her back and over her big thick juicy ass, ready to take what's his. "Oh, Master. This quarantine is going to be so fun…" She moans.
Tags:Ludella Hahn, brainwash, stepsister, redhead, big tits, mesmerized, sexy dancing, obedient slave, booty shaking, pawg, curvy, full nude, ludella hahn, big butt, tit play, blank stares
Format: mp4
Resolution: 1920 x 1080
Duration: 00:16:54
Size: 978 Mb