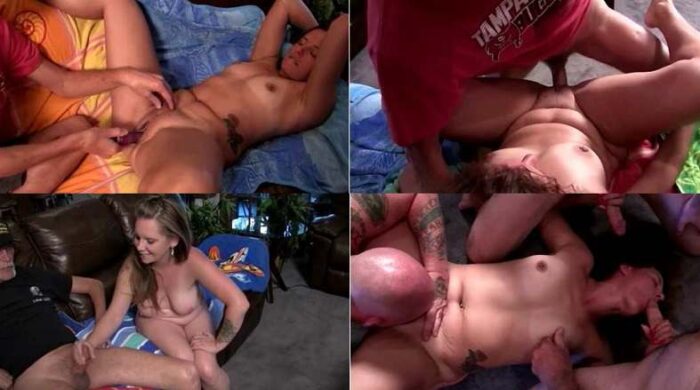 Its FAVOR time in the Family Household today and Step-Daddy knows his STEP-DAUGHTER and his NIECE need some HARD COCK and HOT CUM! Hell, lets not forget HIM, his STEP-SON and even his naked GOLF BUDDIES want some fun too and he fixes up evrybody today! His niece is a trained long time slut and step-dad knows what she needs everyday! His daugher wants some sex too so step-dad fixes her up for her first time with her step-brother and naturally STEP-DADDY joins in but does have some CREAMY Rules for them to follow! It's ALL bareback fun and the gilrs get EVERYTHING they want and his step-son even has a day to remeber LONG after this one is over. Nothing is off limits and all they have to do is keep those legs apart and their hot mouths open!
Scene One:
"Using his Slutty Niece as a CUM DUMP"
Her Uncle watches her fuck herself with a few family toys and after a bit, he decides that she needs some of that big UNCLE cock inside of her, followed by a few loads of his cum too!
Scene Two:
"Brothers First time fucking his little step-sister..But he HAS to eat that CREAM PIE"
Step-Daddy got his step-daughter naked, hot and wet and after he fucked her little pussy, he invites his step-son in to get a little step-sister pussy for himself! Following Step-Daddy's instructions, he drills her holes and fills her up and then, as step-daddy said to do, sucks that fresh cream pie out and licks her pink pussy clean!
Scene Three:
"Step-Daddy know's what BEST for his Step-Son and Little Girl"
Step-Daddy knows his step-daughter loves him to watch her masturbate and then take the toy himself and fuck her with it. After that, her step-brother wants some pussy so since she's already laying there with a wet pussy, he plunges his cock in her tight hole and dumps his load while step-daddy watches. After she was filled up, step-daddy wants a taste and sucks that wet pussy clean and then lets his step-son have the leftovers where he spits it into his sisters mouth! They love sharing cum this way and step-daddy has taught them well!
Scene 4:
"Who wants to GANG BANG my Slutty NIECE?"
Step-Daddy had his golfing buddies over and they had all been in the pool, sitting around having drinks and still naked, Step-Dad brought his horny niece inside and offered her up to them, knowing she would get nasty with anybody he asks and the boys jump at the chance and use her like a rented mule, licking, sucking and fucking every hole she has and leaving her in a pile of creamy white cum, laying on the floor, asking for even MORE COCK before they all leave!
Scene 5:
"Lets all SHARE that HOT CUM..I mean, we ARE Family..Right?"
The Step-Daughter was sucking off her step-brother when step-daddy came in and knew that she was a three hole slut so he slid under her and with a large dildo, fucked her while she blew her step-brother! He knew she was a SQUIRTER, so when she BLEW, Step-Daddy was there to swallow it all down as his face is drenched and his mouth full of his little girls pussy juice! Not to be outdone, his step-son then pumps a load in her pussy and then her mouth and she and her step-brother exchange a deep kiss, letting all that cum mix togther and they both licked each other clean while step-daddy jerked off!
Format: mp4
Resolution: 640 x 480
Duration: 01:02:29
Size: 672 Mb