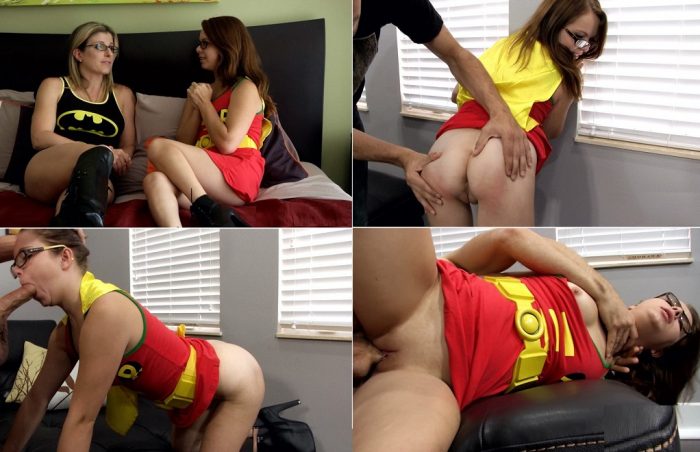 Added: 7/8/15
Scene 1: The Number
Girl Wonder Robyn is orally servicing her mentor and after Batgirl orgasms, Robyn explains that she wants to be a super hero just like Batgirl! "I don't think you are quite there yet" says Batgirl, "you still need quite a bit of training". "Oh come on", "I am so ready for this" Robyn yells! Continuing to argue with Batgirl, Robyn really starts to beg to be a super hero.
Batgirl explains all the things Robyn must do to become a super hero, Robyn eagerly agrees to give it a try. But before Batgirl gives her the number, Robyn must please Batgirl once again.
Scene 2: The Associate
Robyn ends up in front of the Professor and he starts to explain all of the nasty things she will have to do in order to become a real super hero. "Are you a virgin?" asks the professor, and Robyn giggles and says no I am not. In order to get started Robyn will be bent over the window sill and spanked by the "Associate". "Those panties will have to come off" says the professor. Jumping right in the Associate begins the spankings on Robyn's bare bottom. Robyn enjoys having her bare bottom spanked and passes the first part of the test. "Next we will test your deep throating skills" explains the professor as Robyn willingly gets on all fours and begins to deep throat the Associates huge cock! Robyn is struggling to fit the whole thing in her mouth as the Associate pinches her nose to keep her from breathing. With a little practice, Robyn begins to do a great job on the associates cock and makes him blow his load right down her throat! "Did I pass" Robyn asks? "You passed that part, it is now facial time" says the Professor! Robyn can't wait to get thru all of this so she can be a super hero. Robyn starts right in on the Associate and begins stroking his cock up and down, anxiously awaiting her cum filled facial. It doesn't take long when the associate shoots his load all over Robyn's face and glasses. "Did I pass this test?" asks Robyn and the Professor tells her that she did pass the test.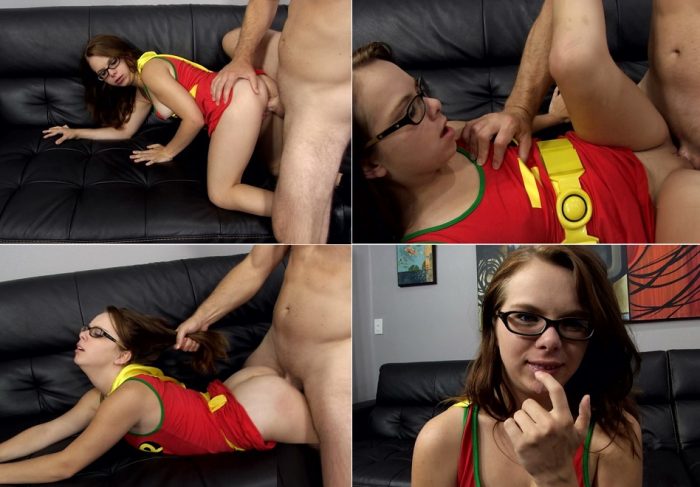 Scene 3: The Professor:
All cleaned up, Robyn is now ready for the Professor. He tells Robyn that he tends to be on the mid-evil side! "This is the deep throat, Rough sex, messy facial portion" explains the Professor as he spanks her bare bottom. Robyn then begins the deep throat part of the test with the Professor. She struggles to get that dick down her throat but keeps working it to please the Professor. "Ready for some rough sex Robyn?" asks the Professor. "Yes, I totally have this one in the bag!" brags Robyn. The Professor puts Robyn on her side and starts fucking her tight little pussy. Loving the ride, Robyn asks "is this part of the training?" and the Professor immediately exclaims "yes!" The Professor continues to pound her tight little pussy and Robyn is really enjoying herself. The Professor stops and says "okay, time for more blowjobs" Robyn quickly and willingly agrees to more deep throat and wraps that cute little mouth around the professors cock. Next the Professor bends Robyn over and starts slamming her pussy again, making her work hard for the super hero status. She fucks the professor in all kinds of positions hoping to convince him to make her a super hero. The Professor can't take it any longer and wants to give Robyn another facial. "Are you ready to swallow the Professors evil seed?" asks the Professor and Robyn says "oh yeah"! "That's the taste of success" the Professor tells her as she cleans up his evil load all over her mouth. "Super Hero here I come! I will show Batgirl!" Robyn says very excited!
Categories: SUPERHEROINES, FEMALE TRAINING, Cory Chase, mind control, super gurl, cum shot, fucking, fuck, Luke Longly, female training, robyn, milf, robyn, super heroine, atp,Jenni Bliss.
Format: wmv
Resolution: 1280 x 720
Duratio: 00:42:30
Size: 1.58 Gb
https://fboom.me/file/448523c9fc396/aincest_-_9709_Jenni_Bliss_No_Longer_a_Side_Kick.part1.rar
https://fboom.me/file/0742890ea9447/aincest_-_9709_Jenni_Bliss_No_Longer_a_Side_Kick.part2.rar