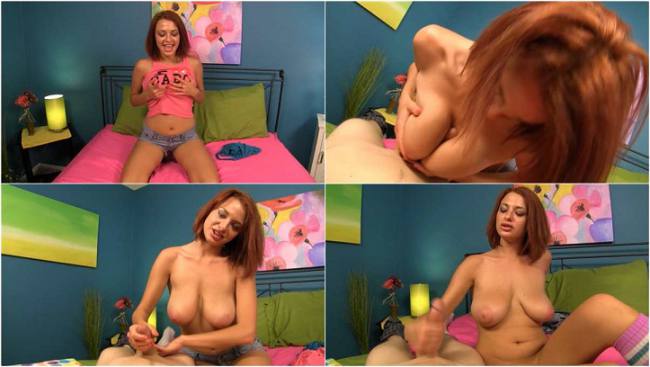 You're finally back from your vacation to Cabo which means you must have bought me a gift. You always buy me a gift when you go away somewhere. So what did you buy me step-dad? Oh, a tank top. It's a cute tank top but I don't know if it will fit over these big boobs of mine. You are the best step-dad ever for bringing me gifts like you do though. You want me to try this top on? Ok but you have to close your eyes. Put your hands over your eyes and no peaking. Wow, step-dad this top is really tight. It rides up on my boobs. Wait a minute. Is this the reason you bought such a small top for me? And you waited until step-mom left the house for you to give me the gift. I get it now. You wanted to see your step-daughter wearing such a tiny top cause it turns you on. I see that bulge in your pants. I actually noticed it the moment you walked in my bedroom. I've wanted to touch you there for a long time and now that I am in college and nineteen I feel grown up enough to make a move. Come here and lie down next to me so I can touch you.
I know you like big boobs. I've heard you make comments a lot about anyone with big boobs. My step-mom has huge ones but I bet they aren't as nice looking as mine. I don't have gross stretch marks all over mine like she does. I'll show you how pretty my big tits are. First I have to take off this super small shirt you bought me. Don't worry, I'm not going to tell step-mom about this. I've wanted to touch you for a long time so this is something I want as much as you. Did you miss me while you were on your trip because I missed you. While you were away I went to a movie with my boyfriend and in the theatre we were making out. I gave him a hand job while he played with my tits. You can touch my tits like he did. I like your hand on my big soft tit. You didn't know your little girl is such a horny slut did you? I'll even get naked for you. My pink pussy is the same color as my nipples. You want to slide your hard cock in my young tight pussy don't you? Maybe later tonight you can come in my room after step-mom falls resting and slide your dick in my little hole. I really want to make you cum step-daddy. I know how much you like big titties so I'm going to wrap my soft boobs around your shaft and stroke it. Yes step-daddy fuck my titties until you blow your load on my pretty tits. Watch my tits bounce all over your cock.
Step-Daddy you made my titties shiny with your hot cum! You like seeing your little girl a mess because of you? Don't forget to sneak in my room later and make a mess somewhere else on me. Oh and thanks again for my present. I'll be sure to wear it whenever I can to make you horny for me, especially when step-mom is gone.
Format: mp4
Resolution: 1280 x 720
Duration: 00:16:21
Size: 505 Mb