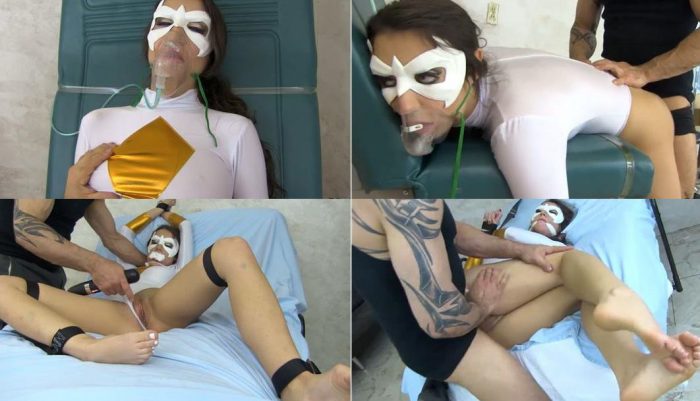 Warrior Girl responds to a break-in at a local medical facility. Closed for a long weekend and devoid of staff, the cold, sterile rooms feel more isolating than comforting. Despite picking up the alarm, the facility shows no signs of burglary. Just as she begins to question if she received a false alarm, a masked man jumps out from the shadows and overwhelms her with an "oxygen" mask . Weak and hazy in her "oxygen" mask, the villain decides to have some fun with the helpless heroine.
When Warrior Girl comes to with her pussy dripping with cum, she somehow feels the need to hunt down the perpetrator in the intensive care ward. The man is waiting for her, armed, but his shots do nothing against her gauntlets. A little shot of whatever he found around the medical office, though, that's enough to stop her in her tracks. Once again, it's time to play.
Warrior Girl hangs from her wrists, now doubly disgraced and soon to be triple. Her costume hangs as she does, exposing her beautiful body. And just to be sure the cops won't take pity and maintain her secret identity, the man only leaves once he's exposed her face, as well. She is left gagged, naked, and struggling, waiting for the office to open in another day or two brining both freedom and humiliation.
Categories: LiLy Adams, creampie, bondage, woman following orders, orgasm control, orgasms, cum in mouth, struggling, costumes, orgasms, peril, medical fetish, unmasking, ko, medical clinic
Format: mp4
Resolution: 1280 x 720
Duration: 00:53:58
Size: 599 Mb