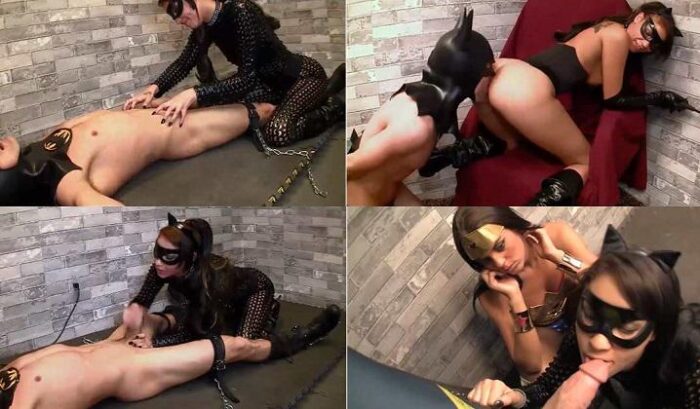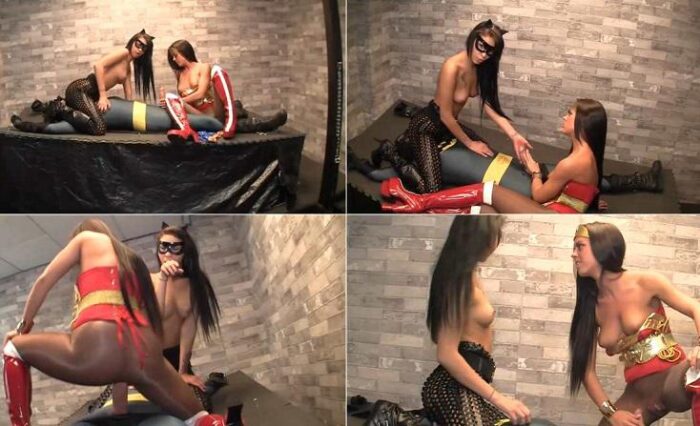 Part One -Kat Woman makes him her Bat Bitch "Oh, Batman" she purrs. "Did you fall into one of my "cat traps"? It looks like once again you are in my clutches." She runs her hands over the cage and looks at her captive. "You know, we've done this so many times. You catch me and march me to jail and I escape. I catch you and you escape. Over and over again."
"Well, my little Bat, I think it is time for it to end."
Batman looks at her with concern. "The problem is, I don't want to stay in jail. So either you have to stay here forever… or… well, I'm sure I can find some fun ways to end your life…"
The Cat pulls out a small remote control and presses a button. A collar around Batman's neck buzzes with current and he shudders and falls to his knees.
"Fun, huh? Catwoman purrs. "Just one of my new toys. No need to try and remove it. If you try, it explodes" She press the button again to make her point. "If you do as I say, I won't have to use this…"
She walks to the cage and taunts Batman with her body. "Still, I am sure you might enjoy staying here with me. I think we can have LOTS of fun…" She pulls Batman's face toward hers and teases him with kiss.
"Mmmm, yummy." she purrs. "But still we will have rules. "She pushes him away and opens the cage door. "You may come out… crawling!" Batman does not move but when he sees Catwoman's finger move to push the button, he decides to crawl out of the cage. "Excellent! You can be trained!" She pulls her whip (or flogger) from her belt and begins to swing it through the air. "Now, I have to warn you, Some of your training might …"
She brings the whip down hard on Batman's back. He winces. "…'Sting' a little bit" Catwoman continues. "But I'm sure it's nothing to lose your head over, right Batman?" She continues whipping Batman, becoming more sexual aroused with each strike, especially when Batman cries out in pain. She trades the flogger for a riding crop.
"Now, let's see how this training did," she purrs. Catwoman straddles his back and rides him like a horse around the room, smacking his ass to make him turn or go faster. She tells him what a good pony he makes and laughs at his humiliation. At times, he tries to rebel, but a harder crack from the crop and he once again complies.
Format: mp4
Resolution: 1280 x 720
Duratio: 01:26:10
Size: 1995 Mb