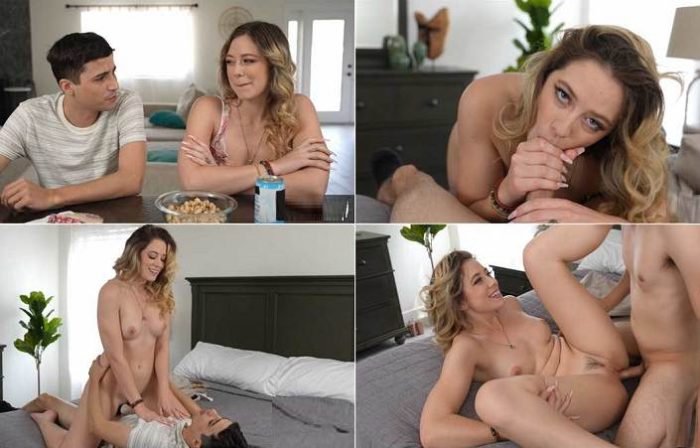 River Lynn is obsessed with cum. When her stepbrother, Ricky Spanish, asks her on a date, River sees an opportunity. She tells him that she doesn't think he can handle her. After talking dirty, River offers to let Ricky handle her at her best and give her what she wants. She leaves the room to let Ricky think on that for a while…
Later, while Ricky is doing his homework, River corners him in his room. She tells him that if he still thinks he can handle her, to pull his cock out. A little bit flustered at his stepsister's naughty demands, Ricky is slow to comply at first. River struts towards him slowly, peeling off her miniskirt dress along the way to reveal some stunning red lingerie. When Ricky finally gets his hardon out of his pants, River comes down on him with a deep throat BJ that leaves him gasping.
After peeling off her thong and bra, River crawls on top of Ricky and rubs her cooch along his dick before sliding him home while shoving his head into her tits to suck her nips. Then she gets on her knees so Ricky can prove to her that he can be large and in charge. Ricky puts his pussy eating skills on display next, then goes for another dicking down as he fucks his stepsis in missionary. When he's about to cum, Ricky tries to pull out only for River to wrap herself around him and keep him in for a creampie just like the bad slutty girl she is.
Format: mp4
Resolution: 1920 x 1080
Duratio: 00:22:34
Size: 1164 Mb