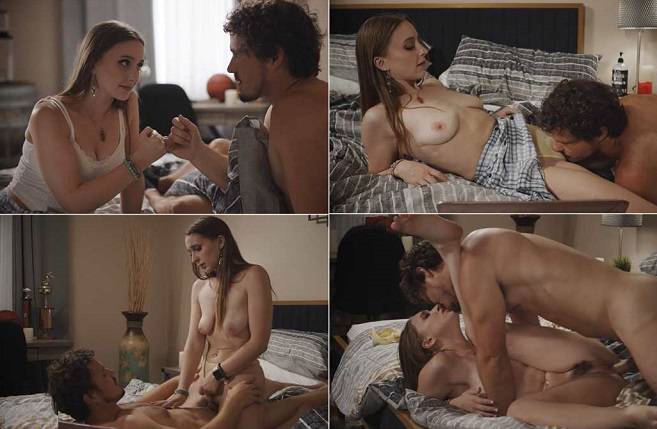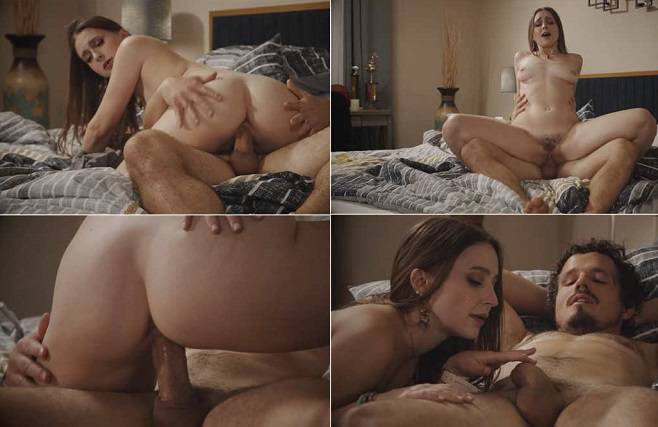 Robby Echo is home alone! FINALLY! He doesn't have his bratty stepsister in the next room. No overbearing parents watching over him. He can leave the glass out on the counter without being scolded, he can leave his bedroom door wide open without worrying about someone looking in! Oh my, does that mean..? Yes! He can watch porn as loud as he wants to, and fully enjoy the experience with the door wide open, a candle lit to set the mood, and his favorite lube (a lube that he usually hides deep in his underwear drawer). He had no idea that his stepsister has just unexpectedly been kicked out of her ivy-league school. She's coming in the front door just as he hits "play."
He's interrupted by the sound of the front-door closing, but he ignores it, saying to himself out loud: "Don't worry Robby -you've got the whole place to yourself". Downstairs, Laney has arrived rolling in her suitcase, and talking on the phone. She denies being a "nympho' to the other party on the phone, sloughing off the fact that she was caught having sex at the library. Her parents and stepbrother are supposed to be away on vacation, but she notices a cabinet in the kitchen left open and becomes alarmed that someone else is in her home.
Meanwhile, stepbrother Robby is upstairs watching porn in his bed. Laney hears sounds, which she thinks are the TV coming from upstairs and goes to investigate, ending her phone call and grabbing a rolling pin and butcher knife for self-defense. Robby screams in fear for his life when she catches him in the act, masturbating, as Laney's holding that butcher knife. When Robby protests at the overkill, she declares: "You could have been a perverted burglar or something!".
Robby had assumed she was at school, Laney sits down calmly on the bed, putting down the knife and sees his laptop, still playing a scene featuring Anna Claire Clouds. The siblings begin discussing differences between boys and girls, with Robby maintaining that the fairer sex isn't interested in porn or jerking off. Laney corrects him, going on to whisper in his ear that women also "like to fuck". When she asks him to comment on a position shown on screen, he thinks their conversation has become too weird and seeks to end it. But when she gets up to leave, carrying his laptop to watch some more, he gets mad.
She relents and they watch together. She idly asks him: "Do you ever have sex in public?". He says No. After he promises not to tell their parents, she confides in him: "I got suspended…for fucking in the library". He makes fun of her, but she claims: "I just got horny and I can't control it". Spontaneously, she begins stroking Robby's groin, but soon breaks off dramatically, upset at the sibling hand-job. "It's unconventional, but at least I'm safe", Robby protests, wishing she would continue.
"Listen, we both want the same thing. I won't tell anyone", Robby insists. "And if you get the urge to fuck a stranger again, just find me", he adds.They come to an agreement, almost daring each other, and kiss a lot more lustily than "kissing your sister" is meant to imply."You don't have to go all the way -just enough to get each other off", she whispers. While kissing, they both rub each other's genitals. She removes her bra and Robby starts sucking at a nipple. He next begins licking her pussy, while the laptop video continues to play. Watch the taboo scene unfold…
Format: mp4
Resolution: 1920 x 1080
Duration: 00:55:38
Size: 813 Mb