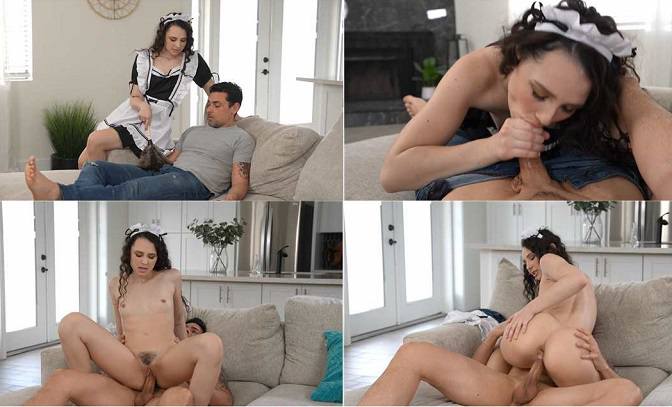 Liz Jordan is chilling with her stepdad, Ryan Driller. She is doing some online shoe shopping, but her credit card is declined because she's flat broke. Sliding across the house, Liz puts her sensuality to work to inquire whether she can help out around the house for extra cash. Flustered, Ryan agrees.
Liz bounces out of the room and puts on a sexy maid outfit that she hopes will capture Ryan's attention. She puts her feather duster to work, leaning over various surfaces to have her miniskirt ride up over her ass. As soon as her stepdaddy pops a boner, Liz offers to help him out with that, too. Ryan hesitantly agrees, and next thing he knows he has his stepdaughter's hands and mouth all over his fuck stick…
Once Ryan accepts that he's going to get with his stepdaughter, he doesn't hold back. He gives it to his sexy little maid in doggy as Liz mewls in delight. Taking a seat, Ryan helps Liz ride him in reverse cowgirl with his hands on her hips. When she turns around, Ryan kneads and squeezes that ass as Liz keeps their party going in cowgirl. She finishes their coupling on her back as she begs her stepdaddy to blow a big load in her trimmed fuck hole. Ryan gives it to her, and then agrees to buy Liz all the shoes she wants.
Format: mp4
Resolution: 1920 x 1080
Duratio: 00:26:14
Size: 1367 Mb