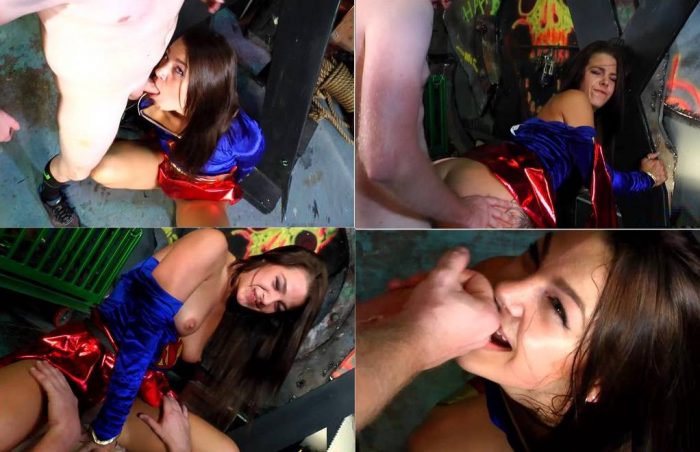 studio/116200
Supergirl is summoned by rogue Russian hacker Igor Levashov's desolate windswept compound. Immediately, upon entering Supergirl demands to know the reason he summoned her. Cocky and bold Igor wastes no time getting to his point. Producing a mobile phone he shows Supergirl his reasons…
Supergirl's face is awash instantly with shock, disbelief and shame. Igor scrolls through the damaging sexual photo's. Supergirl with Batman, with Robin, hell almost all of The Justice League!
Supergirl attempts to snatch the phone from Igor. Laughing he tells her he's two steps ahead of her. The photos have been loaded on remote servers, the images dangling on the cloud ready to be sent to every media media outlet, every celebrity blogger. Everyone on the planet will see her sexual shame. Her Superheroine career will be over!
Igor, gives Supergirl an ultimatum. Suck and fuck his cock within the next 30-seconds or the photos go viral and break the Internet.
No options at her disposal, Supergirl admits to her weaken position and gives into Igor's blackmail. On her knees, Supergirl fills her ashamed mouth in regret with cock. Vigorously, fucking her Superheroine mouth as spit pours from it, Igor relishes in his victory.
Not content with just shaming her in sucking his cock, Igor bends Supergirl over and slides his cock into her perfect wet Kryptonian pussy. Pounding her pussy, Supergirl begins to let the shame wash away from her and gives herself fully to her primal sexual desires.
Pulling his cock from her pussy Igor blasts Supergirl in her face with his cum.
Categories: Superheroine Destruction, Evelin Stone, blackmail, fucking, blowjobs, costumes, cosplay, supergirl, Superheroine, Mind Control, Fondling, Hand , Breath Control
Format: mp4
Resolution: 1920 x 1080
Duration: 00:21:52
Size: 1596 Mb