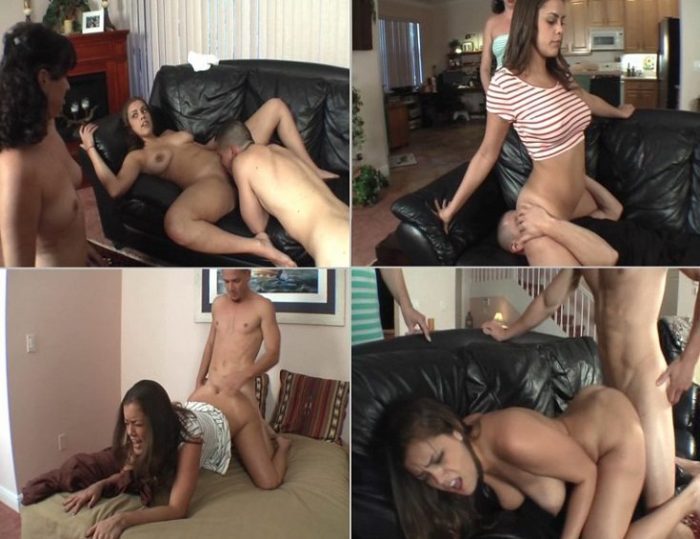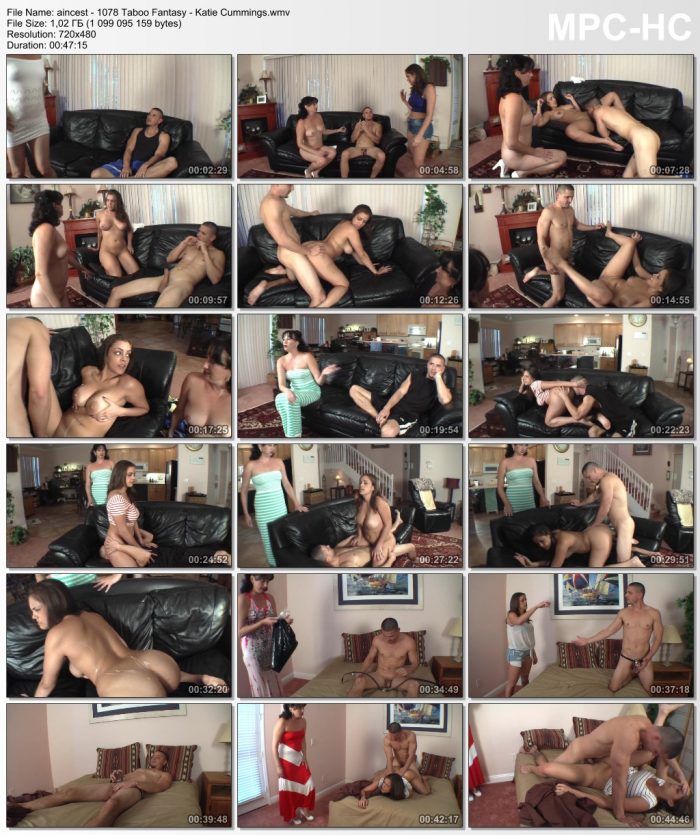 Poor John is about to experience the most embarrassing moment of his life….the loss of his Virginity!!! John's Mom is concerned that her 18 year old Son will continue to have problems over-coming his shyness with girls…if he doesn't lose his Virginity immediately. John doesn't like the idea of having such a conversation with his Mother….but things get even worse for John, when his Mom offers to Deflower him!! Mom strips off her clothes, and tells John that she is going to have sex with him, to show him how to do it. John is almost in tears as he is forced to get undressed……and prepares to have sexual intercourse with his own Mother. Just as they are about to start….his Sister Katie arrives home….and is shocked to see her Mother and her Brother naked in the Living Room. Mom explains to Katie what is going on…and then Mom has an idea. "Katie….you are younger….closer to John's age…..I think you should be the one to Deflower your Brother….and as a thank you… I will buy you a new iPad if you do it". Katie, who has been wanting a new iPad, quickly peels off her clothes…and the two females walk John through the process. First, John is told to lick his Sister's Pussy….to get it nice and slippery….then his Sister sucks his cock to induce a nice, big erection….and then it happens…..Katie lowers her big, beautiful ass onto her Brother's cock….and you should see John's face at the moment he loses his cherry!!! Katie proceeds to bounce up and down on her Brother, as Mom watches intently. Mom tells Katie to show John the different positions….Cowgirl….Doggie-Style……Missionary….and then as John is approaching orgasm, Mom instructs him to withdraw his penis from inside his Sister's Vagina, and ejaculate onto her Breasts. John does exactly that!!! A Massive, Virgin Cumblast all over Katie's Big Tits!! Mom tells John how proud she is of his performance….and then Mom and Katie are off to Best Buy!!!
ohn is having a full on fight/argument with his Mother, when he drops the "F-Bomb"!!! John's Mother does NOT tolerate foul language….and she is determined to punish John severely. Since washing John's mouth out with soap does not seem to teach him a lesson….Mom has a new idea. Mom tells her Daughter Katie to take off her shorts. Mom forces John to LICK HIS SISTER'S ASSHOLE!! Katie laughs as she sticks her big, sexy Ass out for her Brother to eat. Mom shoves John's head right up Katie's Bum and Forces him to get deep up his Sister's Ass. Katie is taunting her Brother as he does it…but unfortunately….Katie calls him a "Fucking" Loser. Uh-Oh!!!! As soon as Katie drops the "F-Bomb"….Mom gets mad at her! Now Katie must be punished too. Mom decides that Katie's punishment shall be……getting POUNDED by her Brother!!! John is ordered to Fuck his Sister really hard…..and then use his Sister as a cum dumpster!!! Katie is revolted and disgusted completely after being Pumped by her Brother and soaked in cum. John has the taste of his Sister's Asshole on his tongue. They both promise to never swear again!!!
John's Mother has completely had it with his chronic masturbation!! His grades are slipping at school…his chores are not being done….he masturbates all day every day!! When Mom walks in and catches him yet again….it's time for drastic measures. Mom puts John's cock in a Chastity Device, and tells him he must remain in Chastity for three days while she goes out of town. John is ashamed….and angry….3 whole days without masturbating…..how will he survive???? To make matters worse….much worse….Mom leaves the key to the Chastity Device with his Baby Sister, Katie!!! Every day after Mom leaves…John tries in vain to ejaculate…but the Device will not permit his cock to get hard. Every day…his Sister Katie Teases him by dangling the key in front of him….and wearing short shorts, and bending over in front of him. On the third day…while his Sister is Teasing and Taunting him yet again…John breaks down…and cries and begs his Sister to release him.Katie begins to feel sorry for her Brother…and after all….she did make things worse by Cock-Teasing him….so Katie makes a deal with her horny Brother. "OK…I'll open the lock and let you out…but you have to promise that you'll Jerk-Off quickly…and then I'll lock it back up….and Mom can't know that I let you out". John readily agrees….but as soon as Katie lets him out….instead of masturbating…he attacks her!! Poor Katie is mauled by her Cock-Teased Brother as he Violently shoves her down on the bed…and before she knows what is happening…..her Brother's rock hard cock is inside her Pussy…and Pumping her hard. As John Pounds away at his Little Sister…Mom walks in and sees the Siblings engaged in sexual intercourse. Katie screams for Mom to help her…but when Mom finds out that Katie had Cock-Teased her Brother…and had let him out of the Chastity Devise….Mom tells Katie that because she was such a Cock-Tease…that she must lie there and suffer….and let him finish!!! With Mom watching, John Fucks the Stuffing out of his Baby Sister until he cums. Katie is in tears after being Brutally by her Brother…but her Mom tells her that she got what she deserved!
Format: wmv
Resolution: 720 x 480
Duration: 00:47:15
Size: 1.02 Gb
http://fboom.me/file/830d5093770c5/aincest_-_1078_Taboo_Fantasy_-_Katie_Cummings.part1.rar
http://fboom.me/file/1456d38ce48e4/aincest_-_1078_Taboo_Fantasy_-_Katie_Cummings.part2.rar