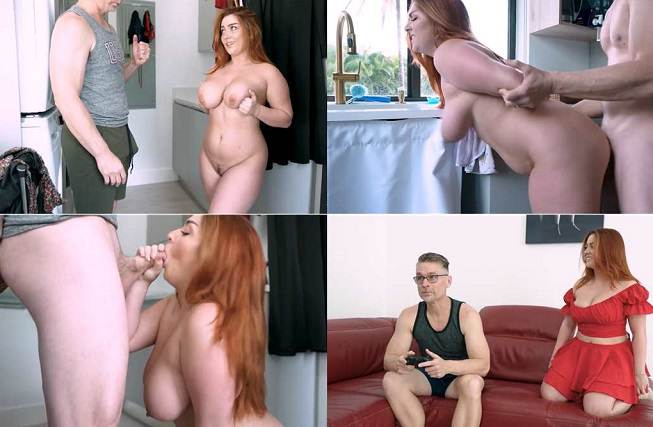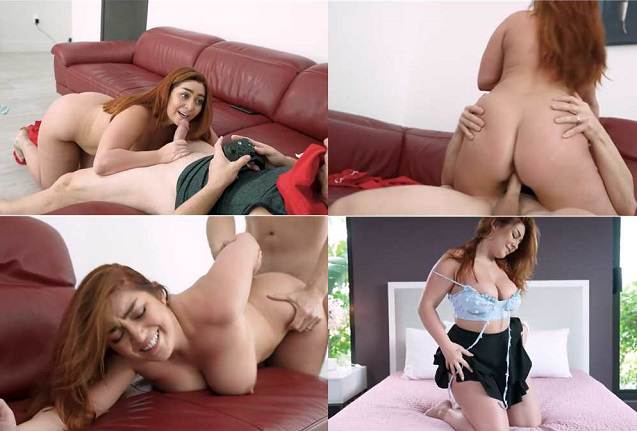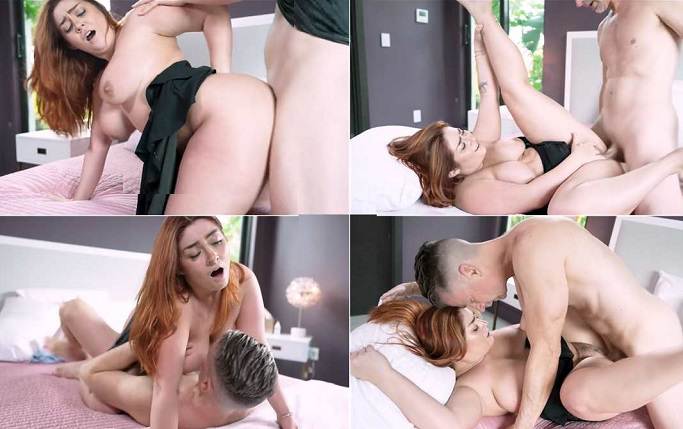 I Showed You Mine-
There is a knock at the front door, and Cory Chase rushes over to answer the door for her step-niece. Cory is wearing a white blouse with black pants as she tells her step-niece, Chloe Cooper, that she is running out to pick up another stepfamily member. Chloe has red hair and a long, flowy dress that she lifts above her head. She throws the dress on the floor, because she is much more comfortable naked! Chloe walks into the laundry room and she finds Luke Longly fixing something underneath the sink. Luke asks Chloe to grab some tools and hand them to him, so he doesn't have to get up. Luke assumes that Chloe is Cory, and he is startled when he realizes that this is his step-niece instead of his wife! It doesn't take Luke long before he asks Chloe if he can grab her big tits! Then he whips his cock out, and Chloe gets down on her knees to give him a blowjob. It is only fair that Luke returns the favor to his step-niece, so he has her sit on the counter and spread her legs in front of him. Then he eats her pussy out for a few minutes! He has her stand up and put one leg up on the counter, so he can easily fuck her pussy while she is standing up. She turns around and faces him, so he can see her big tits bouncing up and down as he fucks her. He fucks her pussy from behind some more, until he cums deep inside of her pussy! He hopes that she is on birth control pills, but he isn't fully sure…
I Bet I Can Distract You-
Luke is playing video games while he sits on his red, leather couch. He is still amazed at how huge his step-niece's tits are now that she's in college! His step-niece, Chloe, walks into the living room and she is wearing a bright red blouse with a matching red skirt. Chloe wants to tease and distract her step-dad, since she is bored and she wants to play with him! Chloe pulls her big, natural tits out from under her shirt and she puts them a few inches away from Luke's face. He is trying hard to focus on the video game, but his eyes can't help but turn to look at Chloe's tits. She pulls her skirt down, and now she is only wearing a simple turquoise thong in front of him. Once his character dies in the video game, Chloe sits down on top of Luke's lap. She strips out of the small amount of clothes that she had left on, and now Luke is officially distracted! He starts licking her big tits and then he takes his cock out from under his shorts. He starts up another video game while Chloe sucks his cock at the same time. Once his cock is nice and hard from the blowjob, she hops on top of him and she starts to ride his cock in the cowgirl position. Luke finally puts the remote control down on the couch; Then Chloe lies down on the red couch and he starts to fuck her pussy in the missionary position. Her moans get louder and louder as he fucks her pussy! Then she flips over into the doggystyle position and he continues to fuck her pussy from behind. She flips over on to her back and he fucks her pussy hard in the missionary position, until he cums deep inside of her.
Guess What I Am Wearing Under My Dress-
Chloe is wearing a blue shirt and a black skirt as Luke walks into her bedroom. Luke lifts up her skirt and he notices that she doesn't have any panties underneath her skirt! Chloe gets into the doggystyle position on the bed, which exposes her ass and pussy to Luke. Luke hops on the bed and Chloe starts to suck his cock to make sure he is hard. Then, Chloe gets back into the doggystyle position and Luke fucks her pussy hard from behind. The two of them fuck in missionary position, followed by cowgirl and reverse cowgirl. She moans and begs for him to fuck her harder, while she's on top of his cock. She lies down in the missionary position once more, until he is ready to cum. Then he jerks his cock off into her mouth and all over her face!
Format: mp4
Resolution: 1920 x 1080
Duration: 00:44:49
Size: 0.99 Gb