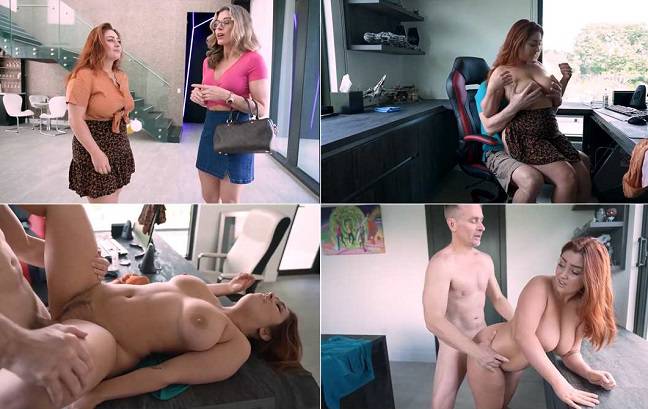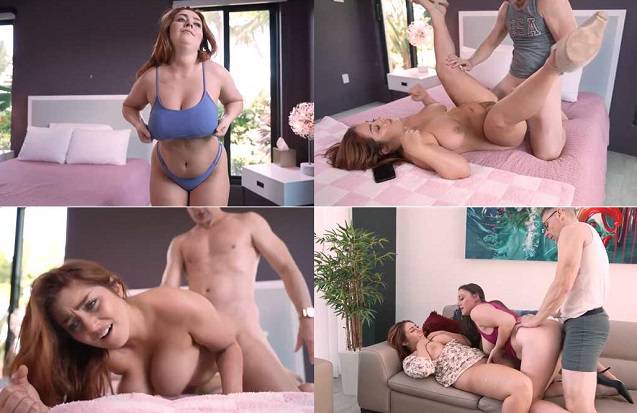 Do My Big Tits Distract You-
Cory Chase asks Chloe Cooper if she wants to come with her to the airport, to pick up her step-mom! Chloe tells Cory that she's going to wait for her at the house. The real reason Chloe wants to stay at the house is so she can secretly fuck her step Uncle Luke Longly while his wife Cory is out! Chloe walks into Luke's office and she starts to massage his shoulders, trying to seduce him. Chloe pulls her big, natural tits out from under her brown blouse and she puts them up close to Luke's face. He can't resist her big tits, and he can feel his cock starting to get hard. Chloe pulls the rest of her clothing off of her body, and then she gets down on her knees in front of Luke. She starts to lick and suck his cock until he is ready to fuck her. He pours some MILF Glue on his cock and then he starts to fuck her pussy from behind, while she's leaning on his desk. He keeps fucking her pussy from behind, until he finishes inside of her. Now he needs to get back to work!
Does My Bikini Cover Enough-
Chloe calls her Step Uncle Luke into her bedroom, because she wants to try on her new bikini and get an outsider's opinion on whether or not it looks good on her. She pulls a blue bikini on to her body and he asks her to spin around so he can get a good look. They only have 12 minutes left until his wife will be home, so they have to be quick! He asks her to take the bikini off because he likes her better without it! His cock is starting to get very hard in his pants, so he asks Chloe to hop on the bed and then he follows her. He starts to fuck her pussy in the missionary position, as her big tits bounce up and down with every thrust. After a few minutes, she flips over on to her stomach and he fucks her pussy from behind. Her moans start to get louder as he fucks her harder. Once he is finished, he runs off to the shower…
First Step Family Threesome-
Melanie Hicks is on top of her step-daughter, Chloe, as the two women are lying down on the couch. Melanie is licking Chloe's tits while fingering her pussy. Luke walks into the room and he gets behind Melanie. He starts to fuck Melanie's pussy from behind, while she is going down on her step-daughter. Chloe and Melanie switch places and Luke starts to fuck Chloe's pussy from behind next. Luke keeps fucking Chloe's pussy while her big tits bounce up and down near Melanie's face. Melanie rubs her clit while she watches them fuck! Luke fucks Melanie's pussy in the doggystyle position next. He switches back and forth between fucking both of their pussy's! While he's fucking Chloe's pussy, Melanie rubs her clit beside them. When Luke is ready to cum, he tells Chloe and Melanie to get down on their knees in front of him and to open their mouths wide. He jerks his cock off into their mouths and all over their faces!
Format: mp4
Resolution: 1280 x 720
Duratio: 00:43:35
Size: 525 Mb