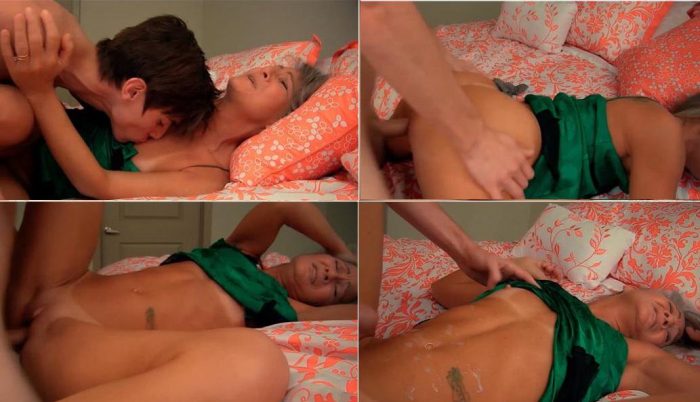 Aiden has been drinking again. He's made it a habit that when he's had enough to drink, he stumbles home and makes his mom give him pussy, never paying any mind to her begging him to stop.
As he stumbles in totally wasted, but trying to get a few more sips of his beer, Aiden makes it to the door. He fumbles with getting his beer can sat up on the TV before he can focus on getting the door open. As he enters into her room, you hear his mom whispering her dread aloud, she isn't looking forward to what she knows is coming due to his being drunk. Falling as he gets up on the bed, he already has his shirt off and is going for his belt so he can unfasten his pants to get them off. Down to his boxers without much time passing, he is trying to be forceful in having his mom turn over for him. Groping, grabbing and kissing whatever he can get a hold of, his mom tries to deter him by verbally denying his unspoken request while physically trying to oppose his actions. As she tells him he's drunk and to stop it, he shoves his lips against hers.
Forcing her arms out of the way, he explores her body with whatever he can get his mouth on from her neck to her tits. Her still telling him no, its easy to see how hard is cock is when he gets it out of his shorts. Inching his way up closer to her head, he shoves his cock in her mouth and and starts facefucking her. After making her gag on his cock a little, he scoots down and shoves his face between her thighs and buries his tongue in her saved pussy. Feeling like what little time he's licked her is enough, he gets up on his knees and shoves his dick inside her. Still forcing every movement, he pushes her hands back to get his mouth to hers again while he pounds her. Her begging him to stop the entire time. Despite her begging him to stop, he flips her over on all fours to bang her doggy style. As he bounces her ass on his cock, she continues to beg him for him to stop. Telling him he has to stop doing this to his mom. Flipping over on his back he forces her to sit on his dick in reverse cowgirl, her never ceasing with her begging of him to please stop. As he pounds her from underneath its almost confusing as to if she is moaning out of dismay or pleasure. Still asking him to stop, he only continues pounding her pussy from underneath before flipping her back over again and pulling her to the side of the bed. He gets one leg propped up over his shoulder and her moans become a bit more significant, stemming more from pleasure than dissatisfaction. Clenching her fists, still begging him to stop, its obvious she's enjoying her son's thrusts as she fucks her. Exclaiming "ok, you made mommy cum, now please stop" she is still trying to convince him to quit fucking her. He only fucks her more, getting her back into the doggy style position again so he can pound it out. On the edge of blowing his load, he pulls his cock out of her and turns her over yet again so he can cover her with the huge load that he feels getting ready to leave his balls. After draining his dick all over her stomach, he gives her a stumbled kiss and flops over on the bed telling her goodnight. She's still trying to get out of his grip, but gives up in frustrated tears as he goes to sleep, holding her in a tight hug.
Category: Mother and Son, incest video, mother son sex, taboo porn, family fucking, Incest, Taboo, Roleplay, MILF, Cumshot, Cum in mouth, Mother-Son Incest,XXX Multimedia, Leilani Lei, Aiden Valentien
Format: mp4
Resolution: 1920 x 1080
Duration: 00:15:08
Size: 319 Mb