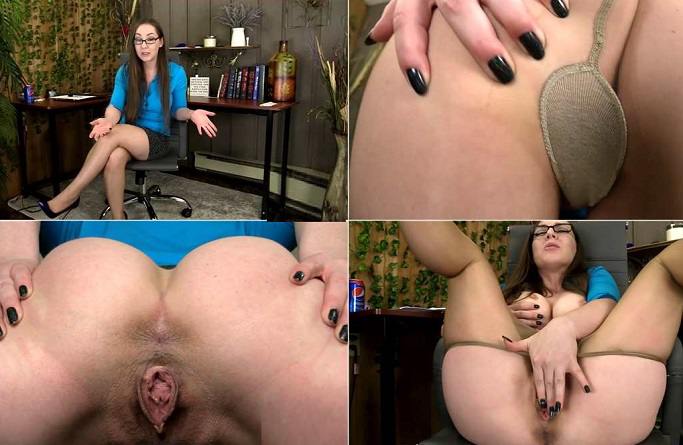 Kristi was busy at work when she heard someone come through the door. She turns around only to find her step-son standing in her office! She has told him many times that he cannot show up at her job, she's already received several warnings about having visitors during office hours.
She questions him about why he is there and he tells her that he lost his job today and that he is upset and needs his step-mommy. Kristi is obviously frusterated but she loves her step-son so much… she quickly begins to figure out how he can stay until she is done with work.
The only possible way that her step-son can stay in the office for the next few hours is to hide… and the only place to hide is only her desk. It's not ideal but it will have to work. Kristi tells her step-son to hurry up and get under the desk. There is not much room under here so Kristi has to spread her legs in order for him to fit… which leaves her pantyhose covered pussy exposed for spying eyes.
It doesn't take long for Kristi to realize that her step-son's face is way too close to her pussy so she tells him to back up. She tries to push his face away but there just isn't enough room. She decides to get up and find some files she needs and it doesn't take long for her pervy step-son to climb out from the desk and stare up his step-mother's skirt!
She turns around and realizes what is happening. She scolds her step-son for being a total perv and looking at his step-mother in such a way… but then she feels horrible because she knows he just needs his step-mommy right now.
She tells him it's ok, just this once she will let him worship her ass and pussy. She stands up and pulls her pantyhose down and allows her step-son to stick his face deep in her spread ass. Kristi begins to get very turned on so she sits down on the chair, spreads her pussy and tells her step-son to lick her pussy and asshole while stroking his cock until they both cum so hard!
Format: mp4
Resolution: 1920 x 1080
Duratio: 00:18:56
Size: 1325 Mb